Images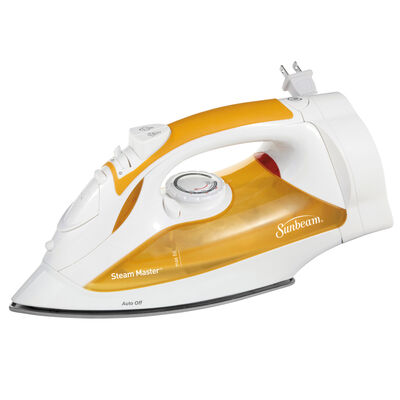 Sunbeam® Steam Master® Iron, White & Orange
Details
http://www.sunbeam.ca/en_CA/garment-care/irons-and-steamers/sunbeam-steam-master-iron-white-and-orange/GCSBCL-212-033.html
Availability:
This item is currently not available online.
The Sunbeam
®
Steam Master
®
Iron offers exceptional performance for precise results. Extra power and steam output ensure wrinkles are ironed out with ease.
See More...
Additional Information
Don't get frustrated with ironing, get steamed! The Sunbeam® Steam Master® Iron with adjustable steam control, Spray Mist™ and Shot of Steam™ features get the wrinkles out fast. In addition, the Shot of Steam™ and vertical steam features freshen up hanging garments, curtains and draperies. The non-stick soleplate glides over garments easily and presses fabric to a polished, crisp look. The anti-drip system prevents water leakage at any temperature setting to prevent unwanted drips. The 8-foot retractable cord provides neat and easy storage. For added safety, the 3-Way Motion Smart™ Auto-Off feature turns iron off automatically when in improper position or unattended iron is detected. Anti-calcium and self-clean systems keeps iron free of calcium and mineral deposits for optimal performance.
Shot of Steam™ feature
Spray Mist™ feature
Adjustable steam control feature
Vertical steam feature
3-Way Motion Smart™ Auto-Off feature
Anti-drip system
Non-stick soleplate
Anti-calcium system
Self-clean system
8-foot retractable cord
1-year limited warranty
Sunbeam® Steam Master® Iron, White & Orange
is rated out of
5
by
11
.
Rated

1

out of

5
by
Parvinder
from
Its a junk iron
I bought this iron about 3 months ago . when I bought this I was happy because of its retractable cord feature . but when I start using it I feel like there is some problem in it because it cannot moved properly on clothes . when I tried to move it back and forth on a cloth while ironing it , lots of wrinkles appeared on the cloth. Its really terrible. I want to give it negative marks
Date published: 2015-06-18
Rated

1

out of

5
by
sallyann
from
terrible iron
Don't buy this iron. I use mine seasonally as we are only in Florida for three months out of each year, therefore it's usage since I bought it has been perhaps a year at best, and I don't do a lot of ironing. It wrinkles the clothes when ironing; it doesn't steam on the steam setting and I need the steam for my sewing projects; AND the teflon bottom is all black; the teflon has rubbed off; nothing I do will get it back to normal; it is not a residue on the bottom of the iron; it is a manufacturer's defect. Do not buy this.
Date published: 2016-01-24
Rated

1

out of

5
by
fiwi
from
ABSOLUTELY USELESS!
Just as reviewer, Crystal... I bought the first one 10 days ago.(I picked Sunbeam because my previous iron was a Sunbeam and I was very happy with it). Spent over half an hour trying to get it to steam. I tried doing what the troubleshooting guide said. Nothing. Almost threw it out the window! Went back to retailer and exchanged it for another one. EXACTLY THE SAME PROBLEM. Really frustrating because I am doing some sewing and a steam iron is imperative. My previous iron lasted me..wait for it...15 years (possibly longer). In fact it still works but I felt it was time for a new iron. I have just fished it out of the goodwill box and am using it again. Extremely disappointed with this product because this is obviously a manufacturer's defect. I will be returning it this weekend and will not be replacing it...I'll carry on with my old iron and when it comes time to buy another one it will not be a sunbeam. If I could give it a minus rating I would. If you want a Sunbeam (because the brand is usually reliable) avoid this model.
Date published: 2015-08-07
Rated

1

out of

5
by
crystal
from
bad Iron
don't buy this i bought one of these and it didnt work at all new so I returned it and exchanged it,then the second one wasn't working either,don't waste your time and money
Date published: 2015-06-05
Rated

3

out of

5
by
Niecy
from
Stopped Working!
This iron was given to me as a gift but now the iron has stopped working. I plug it in and the light comes on but, it does not heat up anymore. What do I do?
Date published: 2015-09-25
Rated

1

out of

5
by
Sony
from
Poor Iron
I bought this iron a little over 3 months ago and didn't use it right away. If I had, I could have taken it back within the time limit; my loss I guess. The iron doesn't steam enough and it drips from where ever and sometimes a lot as in a big puddle on my ironing board. I am very disappointed in this iron. The dial is in a very poor place in order for one to operate it. I have had a lot of Sunbeam irons over the years but I will now probably look at other brands.
Date published: 2015-08-06
Rated

1

out of

5
by
janie9
from
poor instruction
suddenly stopped using steam. how to use and pictures very unsatisfactory
Date published: 2014-06-11
Rated

1

out of

5
by
unhappy customer
from
What a poor product GCBL-212-033
I bought this iron for it looks and the name Sunbeam (quality). It's sleek looking but sleekness does not iron clothes and mine is a prime example. It's about 6 months old, not used a great deal and of today it barely heats up. So what I have is a great looking iron that does not work Not a good product and one that I would NOT recommend. Now I have to buy a new one but not Sunbeam!!!!!
Date published: 2015-11-03