Sunbeam® Heating Pad with Digital LED Controller, King
Details
http://www.sunbeam.ca/en_CA/get-4x-the-air-miles/sunbeam-heating-pad-with-digital-led-controller-king/538-CN.html
Images
Product Actions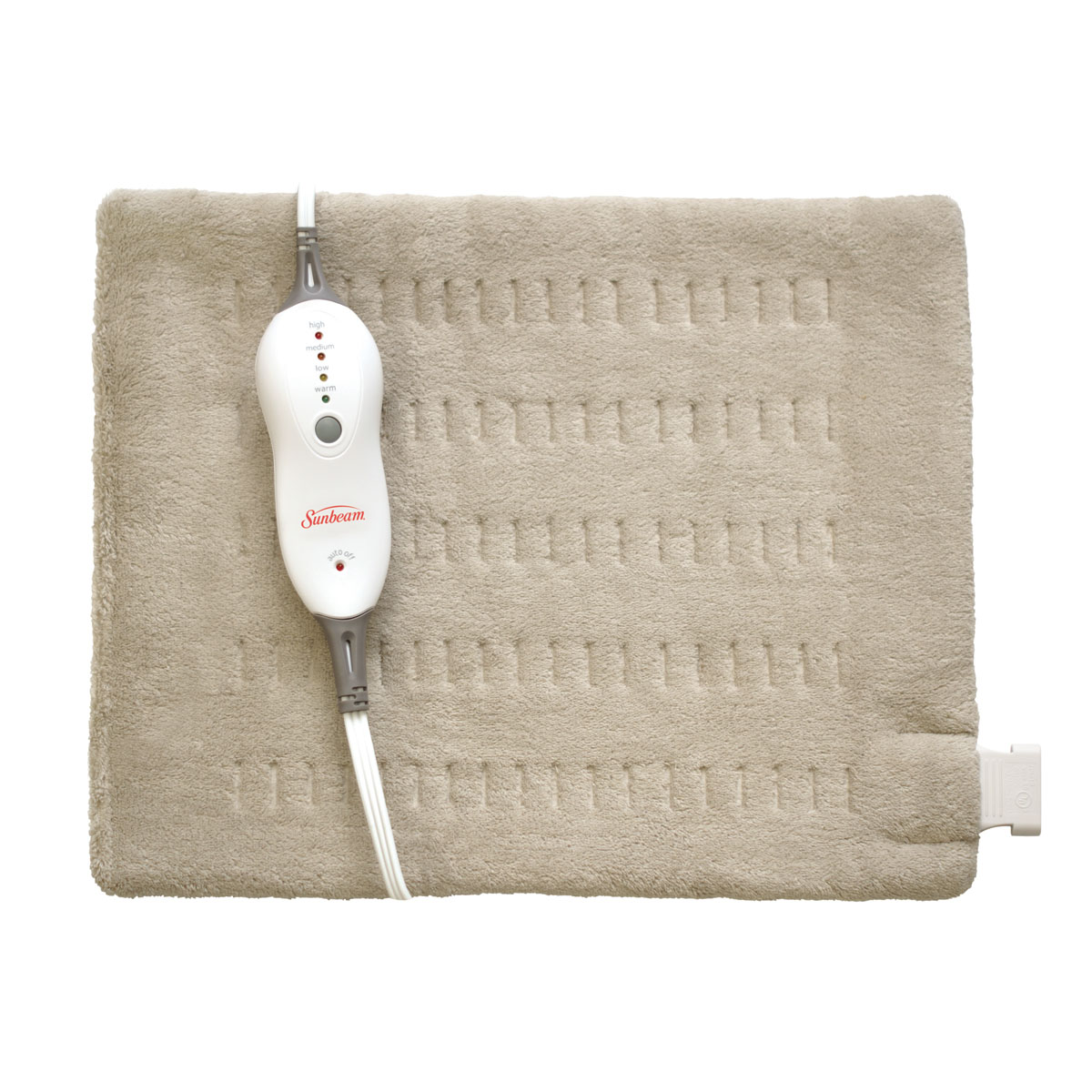 Sunbeam® Heating Pad with Digital LED Controller, King
- See final price in cart
Help soothe muscle ache and arthritic pain with the Sunbeam® King Size Heating Pad with Digital LED Controller. Effectively delivers heat therapy for the relief of muscle pain and discomfort. Measures 12" x 24".
Overview
This therapeutic heating pad helps arthritic pain and everyday muscle aches fade away. Ultra-soft design creates extra comfort during heat application. Includes a convenient 2-hour auto-off and an extra long power cord. Can be used with dry or moist heat. Moist heat option provides more relief and deeper penetrating heat. Simply dampen one side of the pad with water and apply to affected area.
Ultra-soft, fully washable pad
Digital LED controller
4-heat settings
2-hour auto-off
Can be used with dry or moist heat. Moist heat option provides more relief and deeper penetrating heat. Simply dampen one side of the pad with water and apply to affected area.
9-foot power cord
70 watts
5 year limited warranty
Questions & Answers
Service & Support
Sunbeam® Heating Pad with Digital LED Controller
is rated out of
5
by
82
.
Rated

1

out of

5
by
mc377
from
Didn't last 6 months...
I bought the product less than 6 months ago. There is a built in feature to keep it from over heating... a red light blinks and you do this unplug / plug in routine to reset it. I went in to use mine the other night and the light was blinking. I went through the song and dance a dozen times and the light would never stop blinking - which mean the heating pad was not working. It had been unplugged for over 24 hours - no possibility of it being "too hot." I have let the pad unplugged for several days now and when I plug it back in, it continues to blink.I will not purchase this brand of heating pad again and would NOT recommend this product.
Date published: 2015-03-12
Rated

1

out of

5
by
miss O
from
I am sick of this product!
I purchased a soft heating pad about 18 months ago. It quit working within 2 months. I bought another one thinking maybe it was a fluke. It quit in 4 weeks. the light would blink, I would unplug according to instructions on the site. Let it sit for 3 hours, (the site says 2), and plug in. It never worked right. So I complained. A very nice an accommodating staff person sent me another one free of charge. I was thrilled. I sent a thank you. Four months it quit. It has been sitting in my closet gathering dust. I am so sick of this. Years ago heating pads lasted from this company. Not anymore. Do not ever buy one, you are simply wasting your money.
Date published: 2016-02-08
Rated

5

out of

5
by
NurseBax1
from
Would not want to live without it!
My husband has Rheumatoid Arthritis, & would not be able to tolerate the pain in the AMs without the help of this wonderfully soft heating pad & others also made by Sunbeam. Every Sunbeam heating pad we have bought over the years has performed well over a long period of time, despite the abuse of constant usage. They are definitely worth the money! The cheap, not-Sunbeam choices in the stores are hard, constantly slipping out of the cases, unreliable, & I will never buy another one of those. I love mine so much for soothing achy back muscles that I even take it on vacation! Thank you so much for keeping the quality of your product so high!
Date published: 2016-01-05
Rated

2

out of

5
by
JeniBoBenni
from
PERFECT heating pad, but reliability is POOR
This is the absolute PERFECT heating pad for my specific problem but I can't seem to get one to work longer than a few months. I use the pad just about 15 hours a day, every day. I've had to call and get each one replaced ... gone through about 10 of them in the last couple of years. I did find a comparable product (Sunbeam® King Size XpressHeat™ Heating Pad) that has lasted about 3 months so far. I will keep purchasing if I have to since I haven't found any other that works as well.
Date published: 2014-07-03
Rated

1

out of

5
by
Rclip
from
Don't buy this one
Heating pad just quit working after a few months. The red light on the controller just blinks, no heat and unplugging it and re-plugging it as some have suggested on the net has not effect. This seems to be a chronic problem with Sunbeam products. Perhaps we should all stay away from this brand.
Date published: 2014-06-19
Rated

4

out of

5
by
Deeg
from
Best comfort
I received this product (though mine was brown) as a Christmas gift last year and it is by far the most comfortable heating pad I have ever had. I have chronic back pain for 15 years and use the heating pad daily. I need the king size to cover my entire back--my pain is centered in the back but the whole back hurts. Other pads that are vinly with covers, the vinyl tears and as the pad ages the wire heating elements become more prominent--not great for a back problem. This pad does not have that issue. Mine also quite working after 8 months---but I had plugged it into an outlet run through a car lighter for a long trip so I don't know if that blew it out or not. So I am giving it another shot despite the bad reviews. Sunbeam---seems like you should correct this issue, offer replacements or discounts on replacements, don't you think?
Date published: 2014-10-18
Rated

2

out of

5
by
BJensen
from
Great heat, short product life.
I've had this heating pad for about a year (bought late 2013) and a half, I bought this one because it was soft and similar in function to my previous heating pad (which was bought at the Bay in the late 60's... And finally stopped working 40+ years later). Unfortunately the heating pad started having a red blinking light in early 2015. Unplugging the pad from the cord seemed to fix this problem temporarily, but it kept coming back. Now it's just dead, no lights work, no heat is produced and it's been tried on multiple sockets. If you're willing to replace you heating pad every couple of years then this one is great. Unfortunately if you need it for chronic pain I wouldn't suggest this, as it seemed to quit at one of the worst possible times.
Date published: 2015-08-21
Rated

1

out of

5
by
toddo1907
from
After two months- DEFECTIVE!
I purchased this product about two months ago, and was very happy with it until it just stopped working. No heat, and a blinking red light equals- DEAD! I am very dissatisfied with this Sunbeam product.
Date published: 2014-06-11