Sunbeam® Body Shaped Heating Pad with Hot & Cold Pack
Details
http://www.sunbeam.ca/en_CA/pain-relief-and-wellness/heating-pads/sunbeam-body-shaped-heating-pad-with-hot-and-cold-pack/910-715-CN.html
Images
Product Actions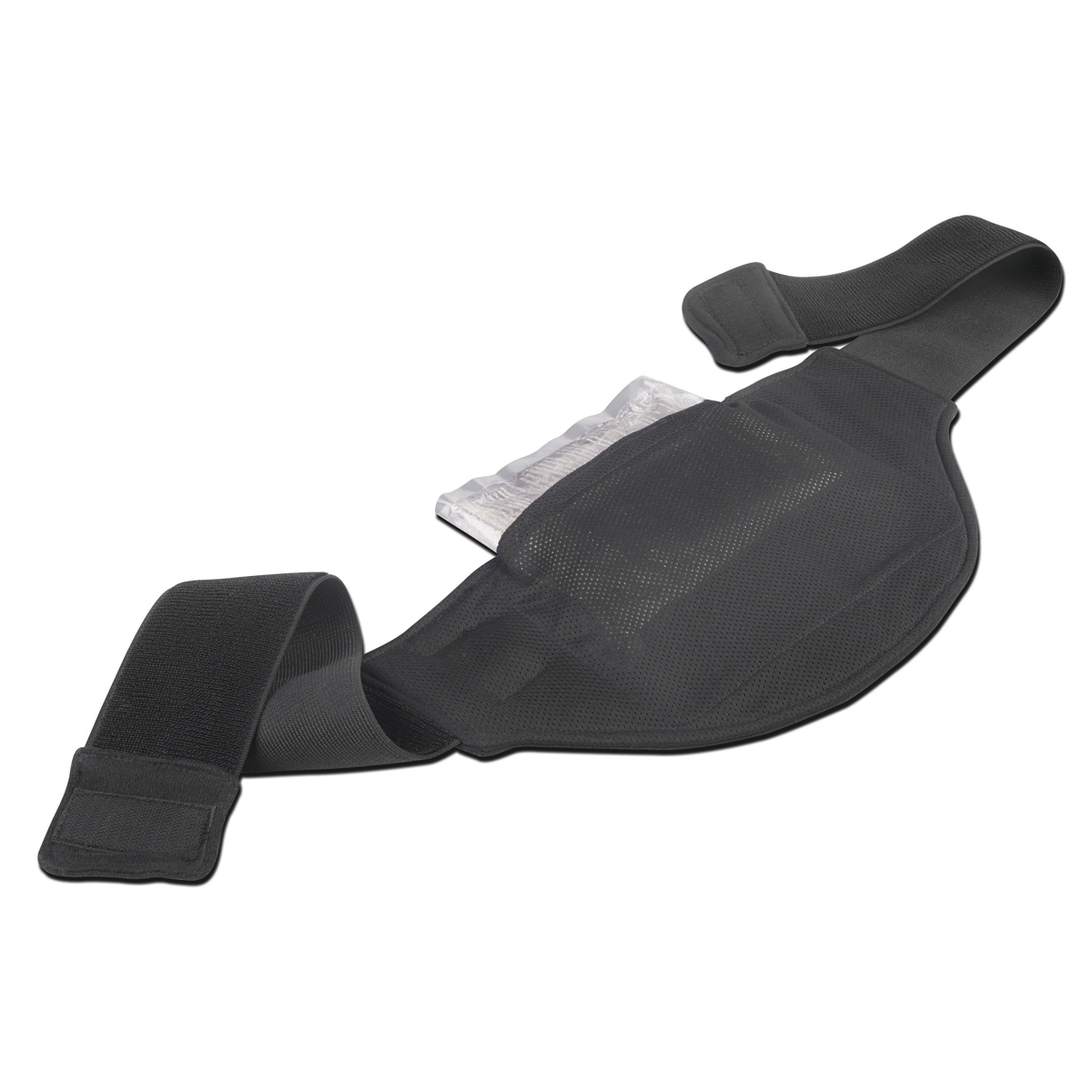 Sunbeam® Body Shaped Heating Pad with Hot & Cold Pack
- See final price in cart
This 2-in-1 body-shaped heating pad is a complete pain relief solution also providing Hot or Cold Therapy at home or on the go!
Overview
This unique 2-in-1 heating pad combines benefits of corded heat relief with the convenience of hot & cold on- the- go therapy. Plug it in to use as a heating pad or detach cord and insert hot & cold gel pack for on-the-go relief. It's design is optimized for back injuries and conforms to the body to maximize hot or cold therapy for soothing relief.
5 heat settings to help customize therapy to your needs
2-hr auto off
Moist heat option for deep, penetrating pain relief
Soft fabric pad is fully machine washable
Detachable control for on-the-go convenience
Includes a reusable hot/cold gel pack that fits inside the pad for mobile therapy
Conforming design with flexible Velcro®*3 straps extend up to 70 inches for a comfortable fit around various muscle groups
9' long cord
2 year warranty
Questions & Answers
Service & Support
Sunbeam® Body Shaped Heating Pad with Hot & Cold Pack
is rated out of
5
by
15
.
Rated

4

out of

5
by
Shelley54
from
Love the mobility
I bought this in Novemeber when I was having back problems. I really like being able to heat the gel pack and use it while walking around. Problem: gel pack broke in microwave. I put it in zip lock bags and keep using it.
Date published: 2014-05-26
Rated

1

out of

5
by
Hobb
from
Not Hot Enough
Got this as a replacement for a different heating pad I had which had died. It was barely warm on the highest setting. Thinking I had a defective one I went to a drug store and purchased another one. It was mildly warmer but still, at the highest setting it was only warm and not hot. And that's applied directly to my skin which you're not supposed to do. Do not purchase this product.
Date published: 2014-07-20
Rated

2

out of

5
by
patty
from
I bought this 15 months ago
I purchased this pad in January 2013 when I started dialysis. It really helped me to live with the muscle spasms and keep warm through each treatment comfortably. It worked great until about a month ago when the pad controller would only register red, which is off and won't turn on. I am not pleased that it broke in such a short time.
Date published: 2014-04-10
Rated

1

out of

5
by
Pattij
from
Very unhappy
I brought a heating pad similar to this one that has a DIGITAL LCD CONTROLLER, two years (yes I know its out of warranty), but I did expect it to last longer than two years. :-( . This is not my first Sunbeam heating pad. I had one that was at least 15 years old and worked GREAT. But because of its age it had began to crack around the plastic case. Sooo I decided to upgrage and say good bye to my "friend" that has seen me through many of painful back pain. Well mistake the saying "they don't make them like they use to" really applies to this product. It must have been a problem because my heating pad is not listed on your product anymore?? The one pictured is the closest to mine. Sunbeam, I have a number of your products and have been very happy with them in the past, PLEASE don't stop making quality products. I now have to find me another brand of heating pad. UNhappy ever after.
Date published: 2016-01-15
Rated

1

out of

5
by
Sissi
from
Disappointed
I bought this about 8 months ago. Worked fine until about a month ago. When I plug it in, it heats for about 5-10 minutes and then shuts off like there's a short somewhere. Tried all the trouble-shooting advice but to no avail. I do not have the receipt and don't know what to to do. I've used Sunbeam heating pads for years but am so disappointed in this model . Maybe quality of their products have gone way down. Not a happy campy; especially for price paid. ☹️☹️☹️
Date published: 2016-02-18
Rated

1

out of

5
by
SuzyMezzo
from
Horrible product! Do not buy!
My husband purchased this for me 4 days ago. I put it on the high setting. It worked for 12 min., and then shut itself off. I unplugged it, and turned it on again, also in high setting. This time it didn't even fully heat before it shut itself off again. After that, it wouldn't heat at all. Returned it, got another one of the same model. This one held up for about 18 min, and then just lost heat, and never worked again. This product is a complete FAIL. Won't buy ANY Sunbeam product after this experience!
Date published: 2017-01-08
Rated

1

out of

5
by
Dona
from
product does not work
I bought this model after my smaller sunbeam also stopped working thinking it would last for a long period of time. Wrong!!! Ive tried all the troubleshooting and nothing works. I called service dept. And all they said is send in my receipt. Sorry i thought wouldnt need it because i expected product to work. I guess ill go look for a more reliable brand. Im done with this brand.
Date published: 2015-11-09
Rated

1

out of

5
by
Sehaskin
from
Where's the Heat?
This barely got warm. I find it a Totally useless product. I remember when heating pads actually got hot.
Date published: 2016-01-28