Sunbeam® Turbo Steam® Iron, Grey & Blue
Details
https://www.sunbeam.ca/en_CA/garment-care/irons-and-steamers/sunbeam-turbo-steam-iron-grey-and-blue/GCSBCS100-033.html
Images
Clearance
Product Actions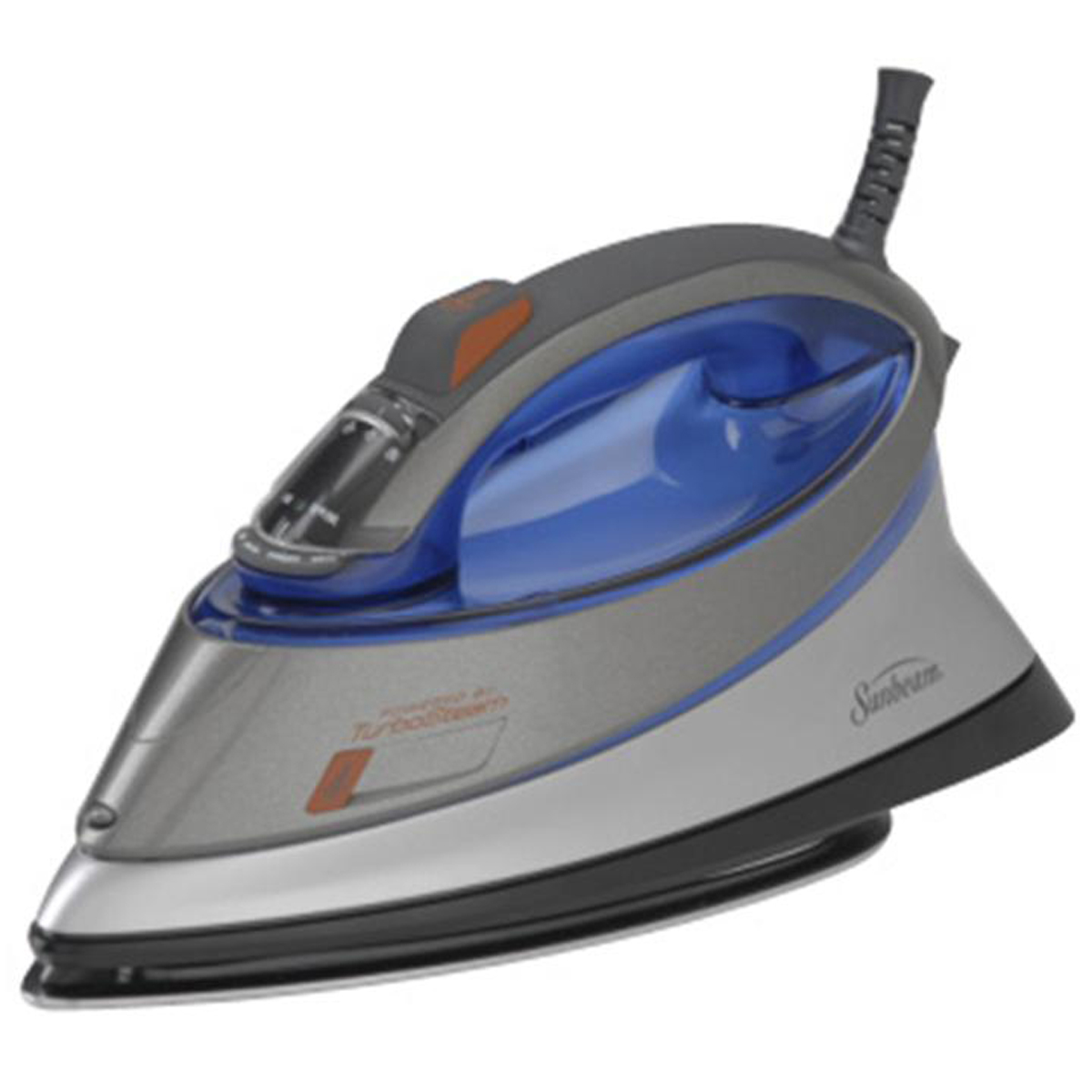 Sunbeam® Turbo Steam® Iron, Grey & Blue
- See final price in cart
Promotions
Steam away wrinkles and press in professional results with the Sunbeam® Turbo Steam® Iron using 1500 watts of power to provide maximum steam output.
Overview
Turbo-charged with a professional-sized stainless-steel soleplate for smooth gliding on virtually any fabric and a pointed tip for easily getting into pleats, between buttons and along seams. Powerful Shot of Steam™ and vertical steam features offer an extra burst of steam on flat surfaces for traditional ironing of shirts, slacks, table linens and more, or vertically steaming out wrinkles from hanging garments, draperies and upholstery. The 3-Way Motion Smart™ Auto-Off feature shuts the iron off automatically after 15 minutes when upright or 30 seconds if lying flat or on its side. The 10-foot power cord with 360-degree swivel is designed for hassle-free maneuverability. Anti-drip system prevents water leakage at any temperature setting to eliminate unwanted drips and a self-clean system helps to ensure optimal performance.
Shot of Steam™ feature
Spray Mist™ feature
Adjustable steam control feature
Vertical steam feature
3-Way Motion Smart™ Auto-Off feature
Anti-drip system
Stainless steel soleplate
Anti-calcium system
1-year limited warranty
Questions & Answers
Service & Support
Sunbeam® Turbo Steam® Iron, Grey & Blue
is rated out of
5
by
57
.
Rated

4

out of

5
by
Jjessica147
from
Iron was everything I expected
This iron worked very well. I don't iron too often but I like an iron that is sturdy, has steam, and had safety features. This iron has all three of these things. The controls were modern and easy to use. It looks really nice, unlike the old clunky irons that my parents used. It's really easy to fill the iron up with water and use the steam function. The steam came out evenly and resulted in a very well ironed shirt. The iron glides nicely over the fabrics and doesn't get stuck or caught. It also shuts off after 30 seconds if left for too long unattended. Overall, great experience using this! *Disclaimer: I was sent this item for free to review*
Date published: 2015-08-15
Rated

2

out of

5
by
Danno210
from
Was fantastic at first...
But about 4 months into its use, the temp control stopped working. Now it will only come on in two tiny locations on the dial, and both are near the cotton setting, fortunately. My previous Sunbeam Steam-something iron was about 8 years old when I decided to update to a more modern one. Well, this one went into the closet and the old one came back out because it always works and doesn't clog. This one clogged just a few short weeks after it was new - and using the same filtered water the other one used for years which incidentally I never had to clean once. I want to like this new one, but the quality has vanished.
Date published: 2015-03-10
Rated

1

out of

5
by
Janet
from
Lemon
After three uses, it has died. On the first plug-in, the iron made so much noise it scared both my dog and me, and it made grinding noises while I ironed one item. Second use, it quit in the middle of the one item I needed to iron. It now is dead: lights are on, but it has no heat at all and something is rattling inside the casing. I have unplugged, read the instructions, replugged, changed settings, removed water, added water, and reprimanded. This iron cannot be coaxed back to life.
Date published: 2015-07-30
Rated

4

out of

5
by
NancyGee
from
Excellent Customer Service!
I ordered this model in early January via Sunbeam's website. The very first time I used it, it leaked all over my ironing board--couldn't believe it. However, I called the customer service phone number on the receipt, got a very nice rep who apologized and said she would immediately send a replacement, along with a return shipping label for the faulty iron. The new iron works great, and I'm very impressed with Sunbeam's response. I will recommend this to all my quilting friends!
Date published: 2015-02-27
Rated

1

out of

5
by
Wallace
from
Hint
I bought this iron and have the same complaint about the dial not having the clothes types on it which is bad enough but after reading through the instructions a few times and the box they don't tell you what the little circles mean either and you would think after having another customer complain about it 7 month ago you would at least add the information to your web site but I don't see it. Hint: add it to your website and maybe people would be a little more forgiving about the poor design and oversight in the instructions and give it a try.
Date published: 2015-07-01
Rated

4

out of

5
by
ArmyMom59
from
NEAT SPACE AGE DESIGN/COLOR
I am one of the few people i know who still iron and I have gone through MANY irons. I got this iron about a month ago. Sunbeam isn't a brand I normally think of when I look for an iron. This one was a surprise. It did have a good weight to it...substantial, but not too heavy. I found the steam button on top difficult to push. I had thumb surgery a couple of years ago and they are not as strong as they once were. I thought the steam worked well, but it took me awhile to find the "shot of steam" button, but that was my fault for not reading any instructions or looking at the pictures on the box before I tried it. * Disclaimer: This iron was sent free to me to review.
Date published: 2015-08-19
Rated

4

out of

5
by
Matt P
from
Sharp looking, easy to use
Out of the box the turbo steam iron is the sharpest looking iron I've ever used. It looks and feels like a really nice appliance, not just a tool necessary for chores. I also like that it has some heft...but it's not too heavy. My favorite thing was the easy digital temp selector. Just push the button for your fabric and wait until it's the right temperature. However, I made the mistake of ironing my cotton first (before my poly blends) so I had to wait (and wait) for it to cool down. Also the steam is very productive (LOTS of steam) which I like. In fact the steam-making was a little too noisy, but nothing all that bad. Quick disclaimer, as a person who hates wrinkled clothes, I was provided this iron to test
Date published: 2015-08-17
Rated

5

out of

5
by
Acherfan31
from
This is a great iron!
I have been looking for the past two years to find an iron to replace the Shark I had for 8 years. The model I had been using has been discontinued. Iron after iron I tried and was not happy with the performance of these irons. I just kept settling with what I had until a month ago when I purchased the Sunbeam Turbo Master Professional Iron in Green and Silver Chrome. At last, I have found an iron that meets my expectations! I iron everyday and need a reliable well structured iron. I love the full size and the weight of this iron. It is a little heavier than most irons I have used and I do not mind the weight. I highly recommend this iron and will continue to purchase this model. Thank you for ending my search for the perfect iron!
Date published: 2015-02-01