Sunbeam® Designer Series™ 12-inch Table Fan, Fuschia
Details
https://www.sunbeam.ca/en_CA/home-comfort/fans/sunbeam-designer-series-12-inch-table-fan-fuschia/SDDF1212FP-CN.html
Images
Product Actions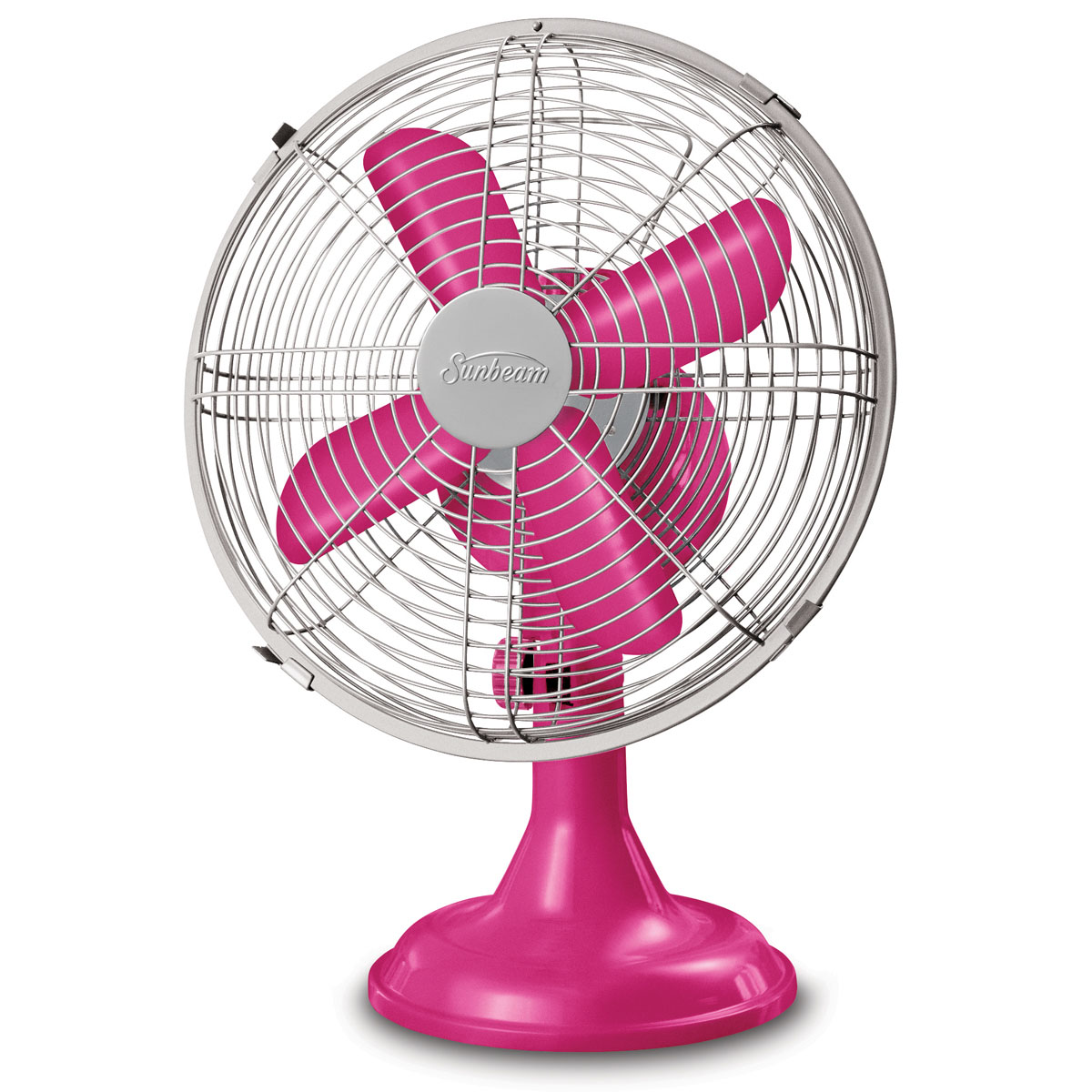 Sunbeam® Designer Series™ 12-inch Table Fan, Fuschia
- See final price in cart
Enhance your home environment and personal comfort. This cooling and colourful Sunbeam® Designer Series™ Table Fan transforms warm, static air to cool comfort and gentle exhilaration.
Overview
Brighten up your home or office space with this cooling and colourful table fan. 3 speed settings and oscillation provide wide area coverage to cool area quickly and more efficiently. Designed for easy portability with carry handle. 1-year limited warranty.
Four 10" Metal fan blades
Three speed settings
Tilt adjustable head allows you to direct airflow where you want it
Carry handle for easy portability
1-Year limited warranty
Questions & Answers
Service & Support
Sunbeam® Designer Series™ 12-inch Table Fan
is rated out of
5
by
9
.
Rated

1

out of

5
by
Katieb
from
Awful
I have purchased two and returned one. Brining to me a total of 3 that I've gone through which all stopped working. The longest life span I have gotten out of was about 10 months and a shocking short 6 months on the pink version of these they have. Such a great disappointment when I have plastic fans that I've paid $12.99 for and they have lasted me longer. My advice to you is don't waste the money on the name it doesn't live up to the price and the look is all vanity purposes. I've contacted the company I have false hopes in a reply but if my review can help one person save some money than I think some good has come from the ordeal.
Date published: 2019-05-02
Rated

1

out of

5
by
BarnsandKnobles
from
High Price Point = Low satisfaction point
Purchased this fan at a Wal Mart store. Was in the higher price range for this type of similar fan, but I figured that it would be better to purchase a higher quality product that would last much longer and had a metal housing. I like the look of this desk fan. It is pleasing to the eye. Unfortunately, after six months of use, the fan started to stop working intermittently. It will oscillate half-way and then completely stop. Sometimes, the motor will make a noise and the fan blades will not be moving at all. Other times, the fan will move and stop spinning at will or it will spin at different rates as it oscillates back and forth. It is useless and a waste of money to say the least.
Date published: 2017-05-23
Rated

1

out of

5
by
damian
from
What a fail
Stopped working very quickly. I purchased this fan as I thought it would be more reliable and longer-lasting than the plastic equivalents; so was happy to pay the higher cost. But three months in and it is useless. It doesn't work. It makes a humming noise like it should be working, but the blades don't spin. Very disappointed.
Date published: 2016-08-30
Rated

1

out of

5
by
JoAnne
from
FRESH OUT OF THE BOX FAIL
this fan looks great but fresh out of the box it failed miserably. first of all, it's noisy but i think that has something to do with the oscillating knob that doesn't work. like maybe there's a piece broken inside. anyway, it won't push in and so won't stop oscillating :(
Date published: 2014-09-10
Rated

5

out of

5
by
crystalinkdesig
from
Retro Breeze
I purchased the fan in orange for a designer so it would both go with her studio theme and add airflow to a space that had only one door to add air flow. We found the fan to not only be beautiful but so quiet! A wonderful purchase.
Date published: 2016-09-08
Rated

1

out of

5
by
CiCi
from
stopped working
I bought the brown one to go for an antique look but this fan stopped working after a couple months. in order to get it going you have to open it up and spin the blades while its on which is dangerous.
Date published: 2017-07-27
Rated

1

out of

5
by
Lonthormiss
from
Worked for 30 seconds and then died
Plugged the fan in and was impressed with the air flow it produced. Then it stopped working after about 30 seconds and I can't get it running again. Grrrrrr.
Date published: 2016-08-15
Rated

1

out of

5
by
Corbin
from
Broken within one month
I bought this fan - it is completely dead after one month of use. I wish I had left it at the store. Thumbs down - poor quality. I am upset.
Date published: 2015-09-29