Images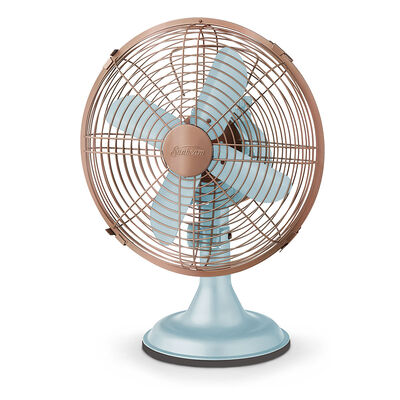 Sunbeam® 12" Modern Metal Table Fan, Blue
Details
https://www.sunbeam.ca/en_CA/home-comfort/fans/sunbeam-12-modern-metal-table-fan-blue/SDDF1212BG-CN.html
Sunbeam
SDDF1212BG-CN
https://www.sunbeam.ca/on/demandware.static/-/Sites-master-catalog/default/dw9d6f852d/images/highres/SDDF1212BG-CN-1.jpg
Availability:
This item is currently not available online.
Promotions
Style your cool. This cooling and stylish Sunbeam® Modern Metal Table Fan transforms warm, static air to cool comfort and gentle exhilaration.
See More...
Additional Information
Put comfort and style first with the Sunbeam® 12" Metal Table Fan. Though it has a compact design for desktop use, its motorized multi-directional oscillation feature allows it to cool large areas fast and efficiently. Its contemporary colour scheme compliments any décor so you no longer have to sacrifice function for design. Additional elements include 3-speed settings and tilt adjustable head that allow you to focus target airflow for optimal cooling comfort.
Contemporary colour scheme: add a contemporary touch and compliment any décor
Motorized oscillation: multi-directional oscillation cools larger areas faster and more efficiently
3 Speed Settings: high, medium, and low speed settings allow you to control the amount of airflow for optimal cooling comfort
tilt adjustable head: allows you to fine tune, focus, and target the direction of airflow, where you need it, for maximum relief
compact design for desktop use: small footprint allows for use on a table or desk and is deal for use in bedrooms or other small living areas of the home
Sunbeam® 12" Modern Metal Table Fan
is rated out of
5
by
8
.
Rated

1

out of

5
by
anon7
from
Stops working shortly after buying
I bought this fan last summer and we used it often. It worked well for approximately two months during the summer. After putting it away from the fall, winter, and spring months, we took it out again only two weeks ago, used it for about a week and then it stopped working. The blades no longer spin on any speed setting. I came to the website for trouble-shooting help to no avail. The customer service link is unhelpful as there is no place to submit your claim or question. Although I was drawn to this fan for the style I wrongly assumed that for $50+ I would get, not only a stylish fan, but a reliable one. Unfortunately this is not the case. I love supporting a Canadian company but would save my money for a more reliable purchase.
Date published: 2018-07-05
Rated

2

out of

5
by
Alliweed
from
Keep buying them cause they're cute but don't last
This is my second sunbeam fan that I've purchased. They are very cute but both fans slowly die on you. It starts with the fan speed slowly losing strength and sometimes it will speed up and slow back down and now it takes several minutes for it to start working. It's clearly struggling to work and can't for a few minutes. If it keeps up the trend of my last fan it's probably going to be toast soon and Ive has it less than six months.
Date published: 2017-12-14
Rated

2

out of

5
by
Scribble
from
Was great for a while...
I fell in love with this fan and it worked great for about 6 months but now, it takes 5+ minutes for it to start (the blades barely turn during that time) and it tends to start screeching randomly (not great when you're trying to or were already asleep). So, now I have a fan that looks cool but doesn't do anything to keep me cool.
Date published: 2017-07-07
Rated

4

out of

5
by
KellyS
from
Small but mighty!! And really loud!
Just bought this fan today, love everything about it... except that it sounds like a small airplane during take off! Not sure how I'll sleep with all the noise but at least I'll be nice and cool!
Date published: 2018-05-25
Rated

5

out of

5
by
Samiamnot
from
Small but mighty
Fantastic product, I am in a two story and it is always very hot, put this on about an hour before going to bed and my room is so cool. Never had a fan work thus well before.
Date published: 2017-06-12
Rated

1

out of

5
by
Zita
from
stopped working after a few months
can't take off cover to clean blades. kind of expensive for something so unreliable - as i see from other comments here.
Date published: 2018-06-20
Rated

1

out of

5
by
Jordan
from
Looks great, already stopped working.
I bought this and only made it through one season. Feels heavy duty, looks great, doesn't run anymore. Disappointing.
Date published: 2018-09-22
Rated

1

out of

5
by
quejoux
from
fonctionnne pas meme s'il est pratiquement neuf
Dommage tellement beau! Cheap! engrenage de plastic
Date published: 2018-09-19