Images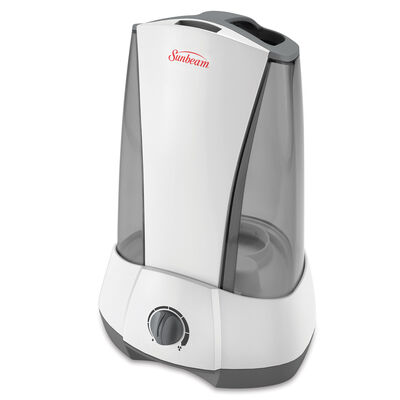 Sunbeam® Ultrasonic Cool Mist Humidifier
Details
https://www.sunbeam.ca/en_CA/home-comfort/humidifiers/sunbeam-ultrasonic-cool-mist-humidifier/SUL496-CN.html
Sunbeam
SUL496-CN
https://www.sunbeam.ca/on/demandware.static/-/Sites-master-catalog/default/dw1efffd78/images/highres/SUL496-CN-1.jpg
The Sunbeam® Ultrasonic Humidifier adds moisture and increases freshness in your home during dry months. Filter free, quiet operation.
See More...
Additional Information
Improve the air quality in your home and protect your family from the effects of damaging, dry air, especially during the harsh winter months. Helps relieve cold, flu and hay fever symptoms as well as reduce static electricity and protect your home's interior. This humidifier is designed for quiet operation to disperse a cool, visible mist. In addition, it is treated with antimicrobial properties*6 to help protect against bacterial growth and eliminate odors.
1.4-gallon tank capacity for medium-sized rooms
Up to 24 hour run time per tank filling with auto shut-off
Variable mist control with rotating nozzle
Adjustable humidistat
Filter-free
Quiet operation
Antimicrobial-treated*6
Removable tank for easy filling and cleaning
1 year limited warranty
Sunbeam® Ultrasonic Cool Mist Humidifier
is rated out of
5
by
14
.
Rated

3

out of

5
by
Gale
from
When it stops working, try this:
The humidifier worked perfectly for the first couple of weeks. The only feature that would make it better is if it had a directional spout to direct the mist further into the room. After not using it for a while, it would no longer output mist despite the tank being full and the mist level turned all the way up. Looking in the base, there was some gunk on the metal disk you can see inside. Here's how to fix it: empty the base and pour a little vinegar onto the metal disk, then clean it with a toothbrush. Refill the tank and plug in. It worked like new after this.
Date published: 2015-03-25
Rated

3

out of

5
by
Raymondloewy2
from
Cool mist ultrasonic humidifier.
We have had this unit for a couple of months and it generates plenty of mist. The only complaint is that the reservoir tank does not have a flat surface to rest on so when you fill the tank you have to hold the tank while it fills and then support it by one hand when putting the cap on. The reservoir is also to tall to be filled from a regular bathroom sink so either fill it from the bathtub or carry it to the kitchen sink and fill it there. But without a flat side to rest on it is inconvenient at best. A simple rectangular top filling tank would have been more useful than the sleek stylish look it was designed for.
Date published: 2014-04-08
Rated

2

out of

5
by
Khvyn
from
Worked great until it broke. Cannot get parts.
Worked great for a winter, then the valve in the water tank broke. The valve keeps the water in while you transport it to the machine. The problem is I cannot get a replacement valve. And for $100 after taxes (when I bought it) you can bet I'm not very happy.
Date published: 2015-11-11
Rated

1

out of

5
by
Jenc
from
Dont spend the money!!!
I had this bought for me for Christmas although its the life brand version by sunbeam. Exact same model. It worked off and on for the last mth.but it always took playing with to get the mist to start. I would have to clean it...fill it..then turn the knob off and on slowly or quickly... Never sure what actually got it to finally work. Very frustrating! The unit is new and never worked properly. Now...it wont start a mist at all. Very disapointing.
Date published: 2019-01-30
Rated

4

out of

5
by
kandaon
from
Silent and efficient
The omly noise you hear is the fan, which is pretty discrete (you need to be right next to it to hear anything). At maximum output, the mist is enough for a small appartment - and the kids love "our own personal cloud, indoors". Capacity: it runs almost a day with a full charge, so you definitely don't have to worry about refilling. No air filtering, but that's ok, with me, 'cause I don't want the strong air currents associated with that. No fan control, but it seems to be tuned well for the role it plays - no complaint there!
Date published: 2014-11-15
Rated

2

out of

5
by
lmb13
from
Worse than the old one
Bought this a year and a half ago and it worked intermittently for about 6 months. Cleaned it and it won't give me anything... the mist was never great from it. Tank was awkward to fill. Cap on the bottom was difficult to close properly. Had more then one "fake close" cap mishap. Useless instruction manual. Doesn't even show a description of the parts in the base which you are supposed to clean. Great, thanks Sunbeam. Wish I had kept my parents from 1970 which was big and noisier but worked much better and with more features. So much for "upgrading"..
Date published: 2015-11-12
Rated

4

out of

5
by
Jean Lefebvre
from
It is not whisper quiet as you mention.
When I had in mind to purchase a humidifier at the store the salesman told me that it was very a very quiet model which I was looking for. But when I tried it well it was not. I had in mind to return to you seeing I had purchased it On line through your site. But the fees involved to return it were too high.
Date published: 2016-12-03
Rated

1

out of

5
by
MarleneRicher
from
A arrêté de fonctionné juste comme ça
J'ai acheté cet article il y a quelques mois et utilise 3-4 fois et il vient tout juste d'arrete De fonctionner comme cela ... plus rien .
Date published: 2018-12-31