Images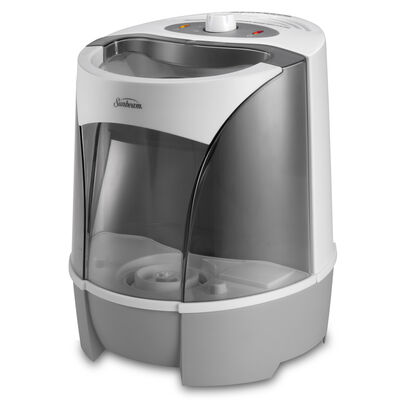 Sunbeam® Warm Mist Humidifier
Details
https://www.sunbeam.ca/en_CA/home-comfort/humidifiers/sunbeam-warm-mist-humidifier/SWM6000CN.html
Sunbeam
0
https://www.sunbeam.ca/on/demandware.static/-/Sites-master-catalog/default/dw3b0b87bd/images/highres/SWM6000-NWM-1.jpg
Be soothed in warm comfort and relief with the Sunbeam® Warm Mist Humidifier. Disperses a warm mist and medicinal vapours to help relieve cough and cold symptoms.
See More...
Additional Information
Comforting warm mist relief adds moisture in the air and helps alleviate dry winter cough and cold symptoms. This filter-free humidifier is designed for quiet operation to disperse a warm, visible mist and includes a medicine tray for aromatherapy or medicinal vapors that can help soothe dryness of the throat, sinuses and irritating cough and cold symptoms. Humidifier is treated with antimicrobial properties to help protect against bacterial growth and eliminate odors. Recommended for small rooms.
0.9-gallon tank capacity for small rooms
Up to 24-hour run time per tank filling with auto shut-off
Includes integrated medicine tray ideal for use with vaporizing inhalants
2-speed settings
Filter-free
Antimicrobial-treated
Removable tank for easy filling and cleaning
1 year limited warranty
Sunbeam® Warm Mist Humidifier
is rated out of
5
by
8
.
Rated

4

out of

5
by
emmakay1
from
Futzy tank lid, but running more than a decade!
I bought this at least 10 years ago as a basic humidifier. It's still running, without having ever needed service beyond an annual cleanup of the lime buildup in the base. The screw-on lid for the tank IS touchy and difficult to get seated correctly, but I eventually learned how to feel the right seat and get it screwed on in the first try every time. (Depressing the valve in the center, helps.) I've never had mold or slime in it. The full tank on low does last about a day, but I run on high to keep our house as humid as possible. This humidifer in our main living area brings our (MN) home up from 32% humidity to about 45% - a significant improvement to comfort and health.
Date published: 2022-01-31
Rated

2

out of

5
by
mike803
from
Pretty basic humidifier
I bought this model recently, and started using it two days ago. I need to refill it at least twice a day, as I am leaving it on the 'high' mode (there is only two modes). It's a bit noisy with the gurgling sounds as the water leaves the tank into the heating base. The tank lid doesn't screw on very well. You have to be sure it is actually on or you will have water leaking out as soon as you turn the tank upright. It takes me 3 or 4 attempts to get it screwed on correctly. This is a major concern. But, an even bigger concern is that this unit does not have an automatic shut-off when the tank is empty. This has already happened to me, as this machine gobbles up the water in the high mode. The unit got quite warm!! This would be enough for me to NOT recommend this unit to anyone. I am sorry I bought it. Also, it requires daily cleaning with vinegar AND bleach. I would rather have a cool mist with a filter!!
Date published: 2020-11-19
Rated

5

out of

5
by
twine2002700
from
a decade of use and it still works great
i bought this at walmart 10 years ago and it's worked every day i've gone to use it. some mineral build up has occured after use wich has wiped right off the unit with no problem. on low the device lasts for a day and a half, and it shuts off the heating element when the tank is empty, lights stay on and indicate that the unit needs more water occasionally the unit needs to be powered off and left unplugged, and the bottom tank emptied, if you follow the directions it works perfectly
Date published: 2022-01-15
Rated

3

out of

5
by
Brian47
from
Not a very good machine
This machine is fine when it runs but the screw cap for water tank drys up and you can't buy parts anyplace for them so not impressed with your product if you had it a month and you need parts forget trying to fix it throw in garbage and buy a different model and brand so you can buy parts for it .
Date published: 2021-03-05
Rated

2

out of

5
by
Santosh
from
Worked well while it lasted
Bought it 2 months ago and worked well while it lasted - past couple of days - the low water indicator is constantly lit, while the tank is full and does not produce any mist - Unit has been on continuously for 3 days and the water level has not reduced one bit.
Date published: 2022-03-08
Rated

5

out of

5
by
Loulu
from
Works great!
Works great! I my daughter has really bad asthma so it's important to keep the room nice and humid in the night. I had it for almost two years no issues and I use it often, it been a lifesaver. It's very easy to clean and set up
Date published: 2022-08-15
Rated

5

out of

5
by
Maggymonsteraplant
from
Works well
No issues. Works as should. Simple, easy to use. Medicine cup for essential oil. Have had for 7 years.
Date published: 2022-12-25
Rated

1

out of

5
by
Msmile
from
Not worth the plastic.
This thing is so touchy. A fleck of lime residue will shut it down. So frustrating.
Date published: 2022-01-16