Sunbeam® 1.7L Cordless Electric Kettle, Black
Details
https://www.sunbeam.ca/en_CA/kitchen-appliances/kettles/sunbeam-1.7l-cordless-electric-kettle-black/BVSBKT1703B-033.html
Images
Product Actions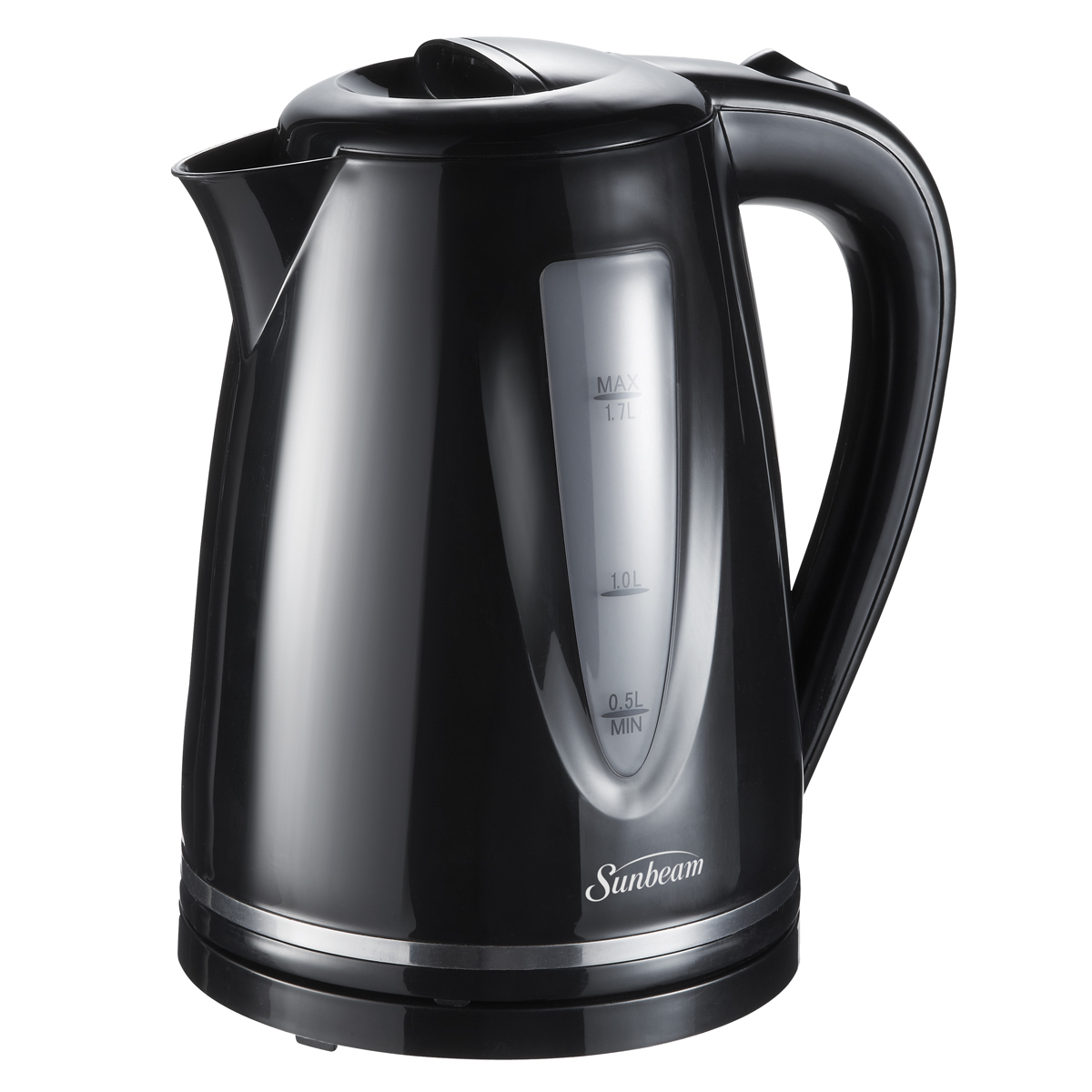 Sunbeam® 1.7L Cordless Electric Kettle, Black
- See final price in cart
Countertop convenience to heat water quickly and easily. The Sunbeam® 1.7L Cordless Kettle is ideal for preparing tea and instant foods and beverages.
Product Specs:
Dimensions: 8.5"H x 8"W x 8"D
Weight: 2.1lbs.
Watts: 1500W
Overview
Ideal for any kitchen, workspace or dorm room, this electric kettle is versatile for both everyday use and entertaining. Cordless design and 360° rotating base provide ease for pouring and serving. With auto shut-off and boil dry protection for added peace of mind.
1.7L capacity
Convenient 360°rotational base
Auto shut-off and boil dry protection
Easy to see dual water windows
Built in filter
On/off indicator light
Hinged locking lid
Mess free non-drip spout
Questions & Answers
Service & Support
Sunbeam® 1.7L Cordless Kettle
is rated out of
5
by
13
.
Rated

3

out of

5
by
Tea4Two
from
Third times a charm?
We've had this kettle for the past 3 years. Not the same one, but this brand, make and model. The first one lasted for 2 1/2 years before we found it was leaking. The replacement that was sent works fine except for the light no longer worka and now the filter that cordons off the spout from any debris that may fall into the kettle is broken. I can't find the replacement part on the site so i'm hoping I don't have to purchase an entire kettle for this small part... any suggestions?
Date published: 2016-10-14
Rated

3

out of

5
by
Gary71
from
On off Light
I bought this kettle five months ago and within a month the on, off light didn't come on every time I went to use it, but every time I had it ready to box up and return to the store that I purchased it, the light would start to work again. Now it will no longer come on at all and the store tells me they only take returns for three months, so I am afraid I will have to send this kettle somewhere to get it repaired. I don't know what I will do for a kettle then.
Date published: 2016-06-07
Rated

1

out of

5
by
Ughh
from
Rusted in just a few months
I bought a similar model kettle to this one that is no longer carried, and within 6 months the inside stainless steel rusted. I called the support line and they told me, even though it is not in the care instructions for the kettle, you are expected to wait for the kettle to cool down, dump the water out, and stick your hand inside and wipe it down with a paper towel to prevent rust. Every single time you use it. I have never heard of this in my life, and I have owned many tea kettles. Do not buy, you don't save money with it's low price point when you just have to buy something else in a few months.
Date published: 2018-08-22
Rated

3

out of

5
by
Wesley
from
Sunbeam Cordless kettle
We just loved it at first, then started to notice rust in the bottom. Is this a Known problem with this kettle".......Not happy.
Date published: 2015-12-24
Rated

1

out of

5
by
greentea
from
Plastic taste?!
Just purchased the kettle today. And used it to make tea. I didn't notice at first but later. on when I drank the water it tastes like plastic. This is pretty bad. I am astonished it has been on the market so long.
Date published: 2016-05-02
Rated

3

out of

5
by
PB5551
from
Overall acceptable product
We have bought a number of this model over the years. We like it however, the same issue occurs over time. The kettle and the base do not connect and you have to keep turning the kettle in order for it to work.
Date published: 2016-04-08
Rated

1

out of

5
by
Unhappy1
from
Poor
I really liked it at first. Handy that it doesn't have a cord. Just like the other kettle model reviews I have to say it is leaking all over the counter. Don't recommend.
Date published: 2015-12-12
Rated

2

out of

5
by
Steve8765
from
Won't stop boiling
I've had this kettle for just under a year and its been great up till now. Recently the plastic/mesh filter that snaps into the snout of my kettle (model BVSBKT1723-033) wore out. Now I have no filter which isn't so bad but the annoying/dangerous part is that the kettle will not automatically shut off after it starts to boil. (Apparently the sensor for this is in the lid and the filter is required to retain either heat or back pressure to trip the switch.) I called 3 Sunbeam repair locations from the Sunbeam web site (the 3 closest to postal code L3T1Y2) and none will either answer the phone. I left messages but no response either. I called the Sunbeam main line (1 800 667-8623 )and was told they do not stock the piece....but when I look at a new kettle at Canadian Tire I do see the part is still used. Can you assist?
Date published: 2018-04-09