Images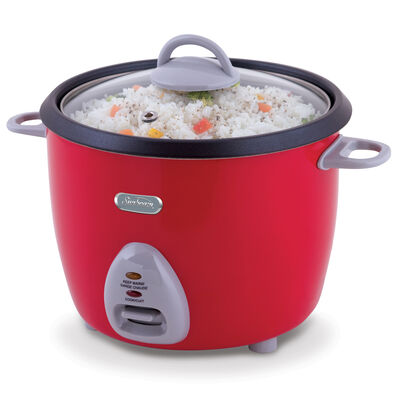 Sunbeam® 16 Cup Multi-Purpose Manual Rice Cooker
Details
https://www.sunbeam.ca/en_CA/kitchen-appliances/rice-cookers/sunbeam-16-cup--multi-purpose-manual-rice-cooker/CKSBRC165-033.html
Sunbeam
CKSBRC165-033
https://www.sunbeam.ca/on/demandware.static/-/Sites-master-catalog/default/dwc0839945/images/highres/CKSBRC165-033-1.jpg
Cook rice to the perfect consistency every time with this Sunbeam® 16 Cup Rice Cooker. Ideal for large family meals and entertaining.
Product Specs:
Dimensions: 11.42"H x 12.2"W x 9.45"D
Weight: 6.39 lbs.
See More...
Additional Information
Whether rice is the main dish for your meal or an accompaniment to scampi or stir-fry, you can serve it with confidence knowing it's cooked to the perfect consistency. Steaming basket is included to conveniently cook fish and veggies while rice is cooking. Prepare a complete meal, just like that! Designed with automatic keep warm setting and auto shut-off.
Cool touch handles for comfort and added safety
Multi-purposes allow you to steam a variety of food
Keep Warm setting allows your food to stay fresh until you are ready to eat
Makes clean up and serving easy with a non-stick removable bowl
Easy to use manual settings
Indicator light to specify cooking cycle
See through tempered glass lid
Includes measuring cup, rice paddle, and steaming basket
Sunbeam® 16 Cup Multi-Purpose Manual Rice Cooker
is rated out of
5
by
9
.
Rated

4

out of

5
by
Burntricer
from
A good rice cooker..but...
Its funny how companies sometimes really have absolutely no clue. There's instructions...but not how to cook rice!...the primary purpose of this 'Rice' cooker... Go figure! A competing brand has a full section on different types of rice, how much water, how long it takes etc... That would be a smart thing to include...as if you don't cook your rice properly...then its pointless to have this machine...I've burnt my rice several times and just the opposite..really soggy...Sunbeam should at the very least have a section online for users.
Date published: 2015-04-24
Rated

2

out of

5
by
Hunie
from
No body to help when it breaks
I have had this rice cooker for less then a year about 5 months. I just replaced an old one that I had for about 5 years also a Sunbeam so I trusted the quality and didn't keep the receipt as \i have a lot of Sunbeam products and have never had to return any of them. Well I have used this one about 12 times with no problem then on the last try I pushed the trigger down and all was okay then all of a sudden the lights went out but the trigger never popped up so I left it to cook but nothing ever happened it was dead. I tried calling Sunbeam and was told to call another number, called it and was told to call another then the last person said to call the first number I tried so I stayed on line for over 20 min just to be told to call another number that was closed for the day. A COUPLE HOURS OF MY LIFE I WILL NEVER GET BACK. I have never had to return anything but if this is what I have to go through if I do have problems then maybe I should be looking at another product.
Date published: 2019-11-07
Rated

3

out of

5
by
Pandarpn82
from
Works great
I love this rice cooker, but unfortunately a leven after always using the plastic paddle the coating on the pot is peeling away at the bottom. :(
Date published: 2016-11-16
Rated

1

out of

5
by
the rice cooker
from
Not a very good quality, nore customer service
I bought this rice cooker from Save-On-Foods. The lining / coating is peaking off rapidly, even while using plactic spatula that came with it, and it no longer works - the main switch does not turn on. Save-On-Foods does not replace it, and the manufacturer (Sunbeam) does not take ownership. Not a very good quality, nore a good customer service. Neither did it come with how to cook different rice.
Date published: 2018-05-22
Rated

1

out of

5
by
Purple
from
Lacking in details
I bought this thinking it will help me cook rice.. however it doesn't seem to have instructions to actually cook rice in it. It has recipes for other things.. but not just different types of rice.. I've tried looking online for recipes and instructions for this product, but came up with nothing.
Date published: 2015-03-01
Rated

1

out of

5
by
Erik69
from
Broken
About midway through our second use, the rice cooker shut off and now it will no longer start. Second use.
Date published: 2015-05-20
Rated

2

out of

5
by
Peter Piper
from
Instruction manual terrible
I have twice tried to make rice and has not worked out. The instructions are very vague on measuring.
Date published: 2017-12-18
Rated

1

out of

5
by
Shaun
from
Didn't Last a Year!
Bought this a few months ago, and it is already dead; didn't even last a year. Would not recommend.
Date published: 2015-05-11