Images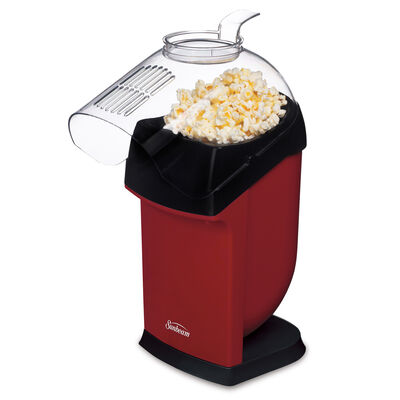 Sunbeam® 4 Quart Popcorn Maker
Details
https://www.sunbeam.ca/en_CA/kitchen-appliances/treats/sunbeam-4-quart-popcorn-maker/FPSBPP0001-033.html
Sunbeam
FPSBPP0001-033
https://www.sunbeam.ca/on/demandware.static/-/Sites-master-catalog/default/dwdc3c55a6/images/highres/FPSBPP0001-033-1.jpg
Enjoy an evening at home with a healthy bowl of freshly air popped popcorn. The Sunbeam® 4 Quart Popcorn Maker can make delicious tasting popcorn in minutes.
Product Specs:
Dimensions: 11.22"H x 5.43"W x 8.74"D
Weight: 2.76lbs.
Watts: 1400W
See More...
Additional Information
A fun, easy to use popcorn maker that offers you the convenience of having delicious and fresh popcorn in your own home. Create a healthy alternative to junk food with this 4 Quart Popcorn maker that allows you to create air-popped popcorn. This compact design offers convenience when storing and using. Both kids and adults will enjoy the healthy outcome this popcorn maker offers.
1/2 cup capacity - pops up to 4 quarts of popcorn
1400 Watts
Compact design, removable lid for storage
Measuring cup / butter warmer - measuring cup doubles as a butter warmer
Removable popping chute, affixes to base of popcorn maker for convenient storage
Sunbeam® 4 Quart Popcorn Maker
is rated out of
5
by
8
.
Rated

1

out of

5
by
Jennwin85
from
Nope
This is my first popcorn maker since I lived at my parent's place (secretly, I wanted to steal my mum's maker). I can honestly say this Sunbeam Popcorn Maker doesn't even come close to compare and my mum's maker was 20 year old!!! This maker's lid continuously pops off, there are so many un-popped kernels.. it's awful. I was really hopeful when I received this product as a gift but unfortunately it doesn't even compare to the old maker's out there. Just disappointing :(
Date published: 2018-09-27
Rated

1

out of

5
by
Trixie
from
Awful popper!
This is the worst popcorn popper I have ever used. The lid comes off in the middle of popping the corn, more popcorn lands on the counter and floor than in the bowl, and there are more un-popped kernels than with any machine I've used before. I thought the top coming off was a one-time thing, but it happens every time I use it. I can't wait to get something else and will never buy a Sunbeam Air Popper again.
Date published: 2016-02-06
Rated

1

out of

5
by
Kate1234
from
Don't Buy
Was just given this popcorn maker from a friend. After using it, I know why it was given away! The unpopped kernels come flying out of it. There are more kernels that are not popped than popped. The top comes off. And there is no on/off switch so you have to pull out the cord while it is operating. I am not impressed! I have an old Proctor-Silex from the 80's that works 100 times better than this one!
Date published: 2020-06-11
Rated

1

out of

5
by
Cfitz
from
Worst Piece of Junk I have ever seen
I have had this unit for a couple of years but have only tried to use it twice. It blows the corn seeds everywhere and only pops a small amount. There is more seeds in the bowl when it is done than popped corn.
Date published: 2020-06-21
Rated

1

out of

5
by
Tyx31
from
motor broke
Motor/heating element broke after 2 years of moderate use. I wish I could remember where my parents bought theirs it has lasted 20 years but I know it wasn't a Sunbeam product
Date published: 2016-07-12
Rated

1

out of

5
by
LauraJ
from
No on off switch?
I had to buy a different style because this one doesn't have an on-off switch and I didn't feel safe unplugging it to turn if off while the motor is still running!
Date published: 2017-03-19
Rated

2

out of

5
by
Lauren
from
Popcorn Popper
The top always pops off when the popcorn pushes up. It doesn't pop all of the kernels after a while - it doesn't last long. It pops well at first though!
Date published: 2016-11-12
Rated

2

out of

5
by
Mags
from
Meh
Was left with wanting more...just like my life...sigh
Date published: 2018-10-16