Images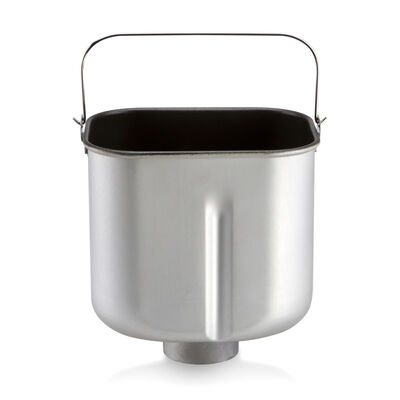 Sunbeam® Breadmaker Pan
Details
https://www.sunbeam.ca/en_CA/parts-and-accessories/breadmakers/sunbeam-breadmaker-pan/113494-000-000.html
Availability:
This item is currently not available online.
Extend the life of your Sunbeam® Breadmaker with this replacement pan.
See More...
Additional Information
For use with Sunbeam® breadmaker model 5891.
Sunbeam® Breadmaker Pan
is rated out of
5
by
29
.
Rated

3

out of

5
by
Roberto
from
Great machine, other than leaky pan
I own two of these machines (I make a lot of bread!) The bread machines are great - solid performance, good size, not too expensive - other than the trays. Over two years, I have (literally) bought 10 replacement trays. So that's 5 per machine, or one every two months. Now I make 2-3 loaves per week, so occasional tray replacements are not actually a huge cost per loaf. But it's kind of annoying, and pretty gross when it leaks. As much as I like this machine, I would probably look elsewhere next time I need to buy one because of the obvious (and persistent) problems with the tray.
Date published: 2015-12-21
Rated

1

out of

5
by
Maja
from
poor quality
bought breadmaker - few years back, 4 months into making bread ( I bake a loaf once a week) - the pan started to leak - took back to london drusgs was told all pans leak for this model. Got replacement pan shipped by a friend from Vancouver - cause here on the Island no one has anything, again leaked within 5 months. I like the beardmaker looks and size, but I have already replaced 3 pans. And it leaks again - I will never buy SUNBEAM breadmaker gain !!!!!!!!!!!!!!!!!! what a waste of money
Date published: 2015-03-08
Rated

2

out of

5
by
Greg0228
from
Grease in my dough
I have always had this maker. The first three leaked after a more than a year. As I use it often, I thought it was wear and tear. The last one I had, I tried to return but London Drugs said it wasn't their problem. I just bought a new one. This one does the same thing. I dig through my dough before marking buns to pick out the grease streaks. I find it frustrating that Sunbeam can make such a great product but cheap out on the most important part of the machine. The seal that holds grease from getting into your bread! this is my 5th or 6th machine. Not sure if there will be a 7th. 30 bucks plus paying for shipping for a new pan just doesn't seem worth it
Date published: 2016-10-09
Rated

1

out of

5
by
Benjamin
from
Kneading Blade Mechanism Will Eventually Seize!
I have this unit and LOVED it until the kneading blade mechanism seized on me. I paid $69.99 for the entire breadmaker on sale and now I need to fork our $30.99 plus shipping to replace a part. Terrible of Sunbeam to have such a defective product. Now I have just a fancy paperweight.
Date published: 2016-04-24
Rated

1

out of

5
by
Shan
from
Great break maker but poor pan
I was given this breadmaker a year ago but have had problems with the pan. It has started to leak, the non-stick coating has chipped away where the paddle sits and got black grease on my last loaf. Seems like the pan is a common problem. Too bad since I like thea chine otherwise.
Date published: 2015-08-28
Rated

1

out of

5
by
Dave
from
Pan leaks, paddle seizes.
I got this about a month ago, and have used it 4-5 times a week. For the last couple of weeks, the bottom of the pan has been oozing a black sticky substance from the spindle, and it's become hard to turn the paddle - so hard that the machine actually got stuck. When I take out a loaf, I can barely turn the paddle, and I'm a big guy.
Date published: 2015-10-11
Rated

3

out of

5
by
Misty
from
Black grease in my dough. Yuk
I have been using this machine for a little over a year. It's probably my 5th machine in 25 years. I use the machine for dough only as I like making French bread and dinner rolls; I have never had this issue before. when I take the dough out of the pan it had black grease streaks throughout. I read other comments online and took someone's advice to use sewing machine oil on the paddle turner on the outside of the pan. This worked for the next 2 batches. But the problem has returned. Help!
Date published: 2016-03-15
Rated

4

out of

5
by
breadlady
from
Awesome machine - frustrating pan!
I got my breadmaker almost 3 years ago and I've been making awesome bread after a few months of practice - I love this machine! I mostly use the dough setting to make bread about twice a week. 6 months later my pan started to leak grease. I've read some reviews before so I knew what it was. Being the patient person that I am, I just went online and ordered 2 new pans. The next one lasted me a whole year but now I'm down to my last pan. 3 days ago it started to leak again. It's so frustrating that I have to keep replacing the pan on a perfectly good machine. Is there a fix for this? I have been loyal to sunbeam, even recommending it to my friends who love the bread I make with it. I want to keep using my machine. Any help would be appreciated.
Date published: 2017-03-13