Sunbeam® Heated Mattress Pad, Full
Details
https://www.sunbeam.ca/en_CA/sunbeam/sunbeam-heated-mattress-pad-full/MSU1GFS-N000-12A50.html
Images
Product Actions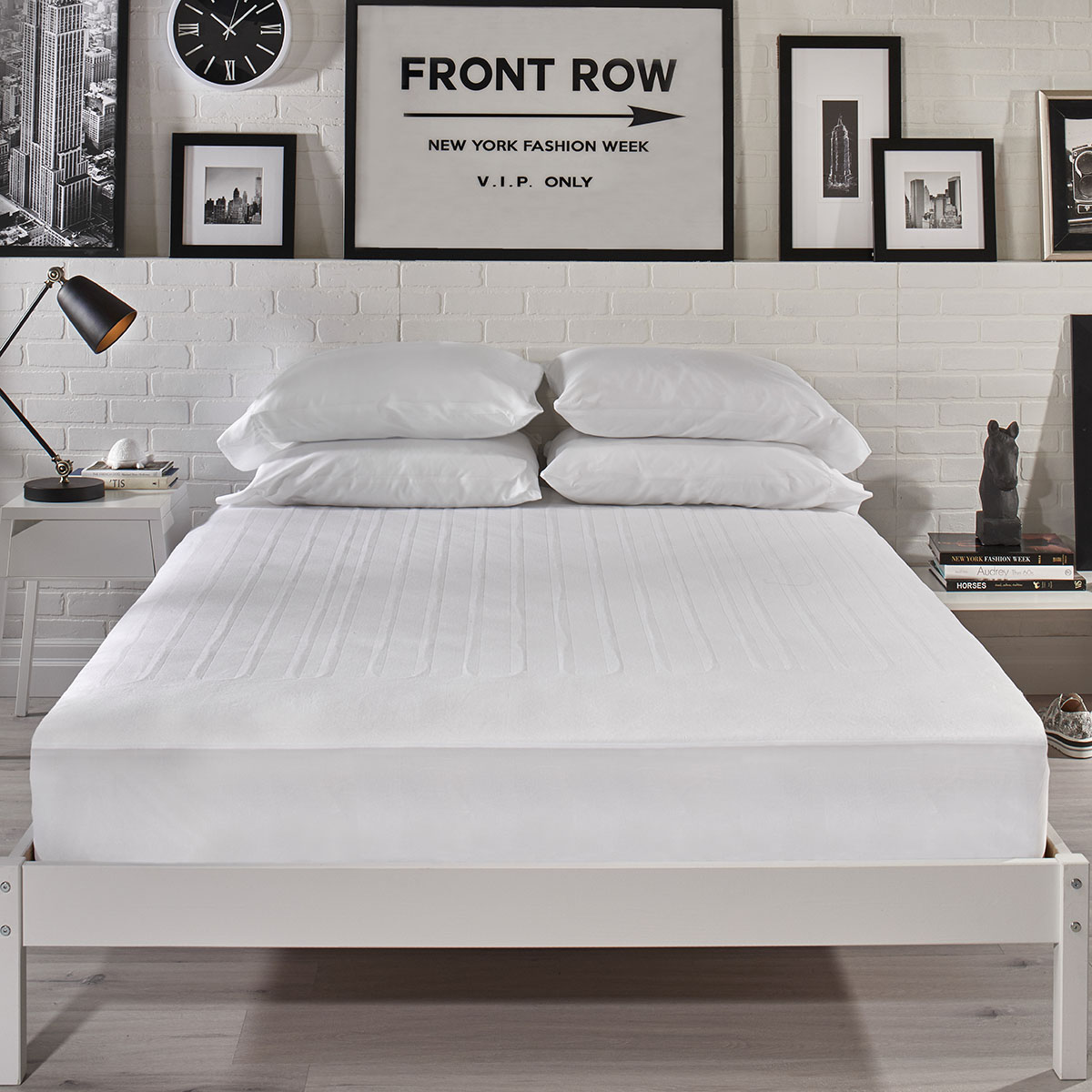 Sunbeam® Heated Mattress Pad, Full
- See final price in cart
Promotions
Experience a warm, gentle slumber with the Sunbeam® Heated Mattress Pad. Enjoy the cozy comfort of heated bedding for chill-free nights of sleep.
Overview
Rest comfortably with the Sunbeam® Heated Mattress Pad as it gently wraps you in warmth. Designed with ThermoFine® technology to automatically adjust to desired heat setting. Machine-washable and dryer-safe.
ThermoFine® technology
10-heat settings
10-hour auto-off
100% polyester
Machine-washable and dryer-safe
-year limited warranty
Questions & Answers
Service & Support
Sunbeam® Heated Mattress Pad
is rated out of
5
by
22
.
Rated

4

out of

5
by
Electrique
from
I love getting into a toasty bed
I hung onto my waterbed years too long, just because I loved the feeling of climbing into a nice warm bed at night. So when we finally ditched the waterbed and bought a conventional mattress, first item on our shopping list was a heated mattress pad. We have had ours for probably about 4 years, it still works fine, the only issue is the backing fabric is too thin (on the bottom) and has ripped and the wires are now out of place. I have washed it several times without issue. My one complaint is that on its lowest setting, it is still too warm, I have to turn it off before going to sleep or I will wake up in a sweat. You also definitely need to give it time to warm up, I usually turn it onto 5 two hours before bed, then turn it off when I go to sleep.
Date published: 2016-10-29
Rated

4

out of

5
by
Glad
from
So cozy!
We bought this to replace an older one, and are happy at how quickly it heats up, and how well it fits the bed. We've only been using it for 10 days or so, but enjoying it so far. Two small things: the clips that keep the plug snugly attached are effective for that purpose, but make it a two-person (one if they have at least three hands) operation to remove it for washing. Our old one was fitted with hangers to fasten the control to the headboard, but this doesn't; that was a feature I really liked, to save space on the bedside table and also make it easier to reach when in bed.
Date published: 2017-01-09
Rated

1

out of

5
by
DonM
from
Still waiting to see...
Straight out of the package the heated mattress pad didn't work, and now waiting 3-4 weeks for a warranty claim. I'm hoping it will be worth the wait.
Date published: 2016-10-31
Rated

4

out of

5
by
mzmazz
from
Easy and comfortable.
I've had my heated mattress pad for a month or so now. It is the most wonderful bed accessory I own. I can turn it on to a low setting about an hour before I go to bed and when I get into the bed, the sheets are have been warmed and are comfortable. I don't feel the heating coils or the heating electronics at the bottom of the bed. I am so very happy with this purchase and hope that it continues to work as well for years to come.
Date published: 2016-11-14
Rated

5

out of

5
by
Darlene
from
Great heated mattress pad
This is our second one as our first got wrecked in our dryer. Recommend not to be dried in the dryer as the heat can melt the pad but we did have it for 5 years prior before wreckage. Not the company's fault. We love this heated pad! I'm always cold so I'm able to heat my side up and my husband can leave his side cold. And it is nice to pre-warm the bed before you jump in.
Date published: 2017-01-08
Rated

5

out of

5
by
Daphnebelle
from
Amazing
I had this product previously but it was lost in our move to a new city or may have accidentally ended up being given to charity. Regardless, I was excited to get another one. Great warmth. Wish there was an ability to turn on for shorter duration. i am considering getting one for the kids beds. Amazing quality and simply a must for the cold Canadian winters!!
Date published: 2017-01-09
Rated

5

out of

5
by
Deeziner
from
Love it!
I had one of these before on our queen bed. We bought a new king size so I had to get another heated mattress pad. I cannot imagine being without one. It's lovely to climb into a nice warm bed each evening. We turn it on about an hour before we go to bed and then turn it off when we get it. All of your muscles relax.
Date published: 2017-01-16
Rated

5

out of

5
by
LA B
from
Great product
I purchased it online a month ago. We were surprised, and happy, at how quickly it was delivered...just in time for a cold-snap. It's a terrific product, especially the Pre-Heat option. We think it's good product and very good value.
Date published: 2016-12-20