Images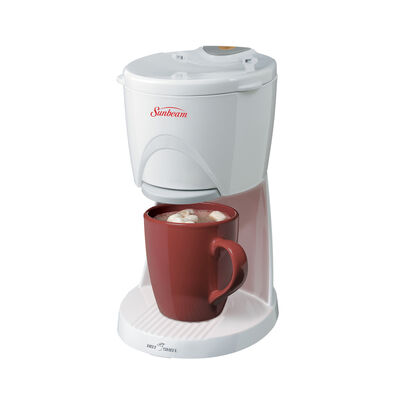 Sunbeam® Hot Shot® 15 Oz. Hot Water Dispenser, White
Details
https://www.sunbeam.ca/en_CA/sunbeam/sunbeam-hot-shot-15-oz.-hot-water-dispenser-white/6170-33.html
Sunbeam
6170-33
https://www.sunbeam.ca/on/demandware.static/-/Sites-master-catalog/default/dwf8523549/images/highres/6170-33-1.jpg
The Sunbeam® Hot Shot® Hot Water Dispenser provides the convenience of hot water on the spot. Make your favorite instant foods and beverages with no waiting time. Simply dispense, mix and enjoy!
Product Specs:
Dimensions: 9.88" H x 5.78" W x 7.79" D
Cord length: 30"
Watts:1450W
See More...
Additional Information
For fast fixing while making tea, hot cocoa, instant oatmeals, soups and more. This hot water dispenser heats up to 16 ounces of hot water quicker than a microwave and without any mess. Water dispenses right into your cup or bowl. Compact size is ideal for office, dorms and small kitchens. With auto shut-off safety feature and convenient cord storage.
Quickly heats water
16-ounce capacity
Compact size
Auto shut-off
Cord Storage
1-year limited warranty
Sunbeam® Hot Shot® 15 Oz. Hot Water Dispenser, White
is rated out of
5
by
192
.
Rated

5

out of

5
by
BeckyJ
from
The Best
The Sunbeam Hot Shot is the best! This is my the 3rd one in thirty plus years. I 've worried I wouldn't be able to find a new one.(The area stores weren't stocking the Hot Shot so I looked Online. And surprise, surprise there it was on the Sunbeam website!) The first was a hand-me-down from my late mother-in-law in the early 1980's. The Hot Shot is a mother's right hand in the morning for Hot Chocolate and the oatmeal/cream of wheat packets. The water heats fast and hot compared to a microwave. My daughter said, if one isn't available when she moves out she'll borrow mine, permantly(sp). I may need to buy 1 or 2 more for relatives...
Date published: 2015-04-17
Rated

2

out of

5
by
Big Dog
from
A Cheap Product with a Cheap Design
As I already wrote a letter describing my disatisfaction with the Sunbeam water heater that I purchased on line and sent back, my comments shall be very brief. It was not nearly as well made as the previous model that I had, and had many small problems as it was also poorly designed. So I purchased a more expensive model which is still not as good as the old Sunbeam water heater that I had and which I bought used and lasted for over ten years with continous almost daily use. They sure don't make water heaters they used to! [This review was collected as part of a promotion.]
Date published: 2015-11-14
Rated

4

out of

5
by
Linka
from
some good, some not so good
I've had a hotshot for about 20 years and use it every day. My older version had features that I hope will be brought back. The old version had an electrical cord almost twice as long as this new one. The new one has to set in front of my spice rack, which is inconvenient because of the short cord. The new one looks nice, but I prefer the smaller, sleeker size of the old one that did not take up as much room. Also, the ridges on the cup holder section is not as easy to clean as the smooth surface of the older one. I would still recommend this because it heat just the right amount of water, is small and not bulky.
Date published: 2016-04-29
Rated

4

out of

5
by
sibrhusky
from
Good, but like the old design better
I love the Hot Shot and have used various models for at least 15 years. They were great when my daughter was younger and wanted hot water for cereal or hot chocolate. It seemed much safer than boiling water on a hot stove. However, I have to agree that the placement and design of the power button is not as good as the old model. And sometimes, the "on" button just doesn't work as well. Still, the Hot Shot heats hot water quickly (probably faster than the microwave), and delivers boiling water for tea, coffee, hot cereal, etc.
Date published: 2014-12-02
Rated

3

out of

5
by
mikeyrob
from
Original model was much better design & construct
I unfortunately just had to replace my original hot shot after 10 years (heat and dispense buttons were both in the front) and mugs fit under dispenser with no problem. The new model style is no where has good as the original. I can not fit my mug under this dispenser, the water constantly leaks out of the water dispenser. Need to go back to the old style - much better and sturdier. Ratings listed are for the new model NOT the original model!
Date published: 2015-03-21
Rated

2

out of

5
by
Joanie
from
Disappointed
I bought the newest black model to go with my kitchen remodel. Poor quality.The dispenser lever broke on it. The older, heavier, white model with the gray heating and dispensing levers together, was much more durable and accomodated tall mugs. It lasted 6 years. Please bring it back in black.
Date published: 2014-08-22
Rated

1

out of

5
by
Robert 536
from
Broken after 5 weeks
I've had a hot shot since I was a student over 30 years ago. I have bought many for my family and friends. A year ago I bought the black one for a friend, it lasted her less than two months. Mine broke down after 7 years of daily use. I bought a new one, looking for the white one, the black was awful in quality, I bought it, lasted two weeks, I was lucky to be able to exchange it for another...... And here I am (Again) with a broken hot shot in less than 5 weeks. Very disappointed in the quality of the newer hot shots. Both black and white. The quality should be improved.. Don't they test their products when manufacturing them ?
Date published: 2019-12-09
Rated

1

out of

5
by
Torstar
from
Junk
I owned a hotshot with the two buttons on the front for about 15 years. And it died. So i loved that one so much i bought the new one. It heats great no issues there exept the power button is not as easy to push. The dispense button broke within days. Now i have the handle of a tablespoon pushed in the slot and i have to depress that to dispense the water. Dont waste your money on this garbage. Why oh why do companies not understand the old adage if it aint broke dont fix it. Until sunbeam makes a new hotshot like the old model, i dont need to purchase their product.
Date published: 2018-10-11