Images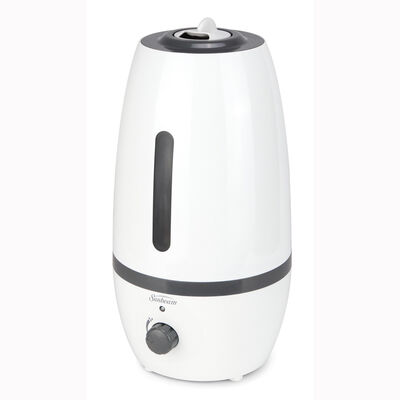 Humidificateur ultrasonique à brume fraîche Sunbeamᴹᴰ
Details
https://www.sunbeam.ca/fr_CA/confort-au-foyer/humidificateur-ultrasonique-a-brume-fra%C3%AEche-sunbeam%E1%B4%B9%E1%B4%B0/SUL1410-CN.html
Sunbeam
SUL1410-CN
https://www.sunbeam.ca/on/demandware.static/-/Sites-master-catalog/default/dwa5f490d2/images/highres/SUL1410-CN-1.jpg
Cet humidificateur ultrasonique SunbeamMD accroît le niveau d'humidité et de fraîcheur durant les mois secs de l'année. Fonctionnement silencieux, sans filtre.
Spécifications du produit:
Dimensions: h: 11.5 po x l: 6 po x  P 6 po
Poids: 2.1 li
Voir la suite...
Additional Information
Améliorez la qualité de votre air intérieur et protégez votre famille ainsi que votre foyer contre les effets dommageables de l'air sec, particulièrement durant les longs mois de l'hiver! Cet humidificateur aide également à soulager les symptômes du rhume, de la grippe et des allergies saisonnières tout en réduisant l'électricité statique et en protégeant l'intérieur de votre maison. Conçu pour disperser silencieusement une brume fraîche visible dans la pièce.
Fonctionnement sans filtre
Fonctionnement silencieux
Réservoir de 2L/0,5 gallon
Jusqu'a 18 heures d'humidification par remplissage du réservoir
Bouton de réglage de l'intensité de la brume
Indicateur de réservoir vide
Brume fraiche visible
Humidificateur ultrasonique à brume fraîche Sunbeamᴹᴰ
est évalué de
5
de
8
.
Rated

3

de

5
de
Jannotnice
par
Not recommended for large rooms
Bought this a few weeks ago to use on my nightstand. My house is all hardwood and tile and extremely dry. Pros: - very quiet except for a few water bubbles in the machine once in a while - can adjust the mist strength - design is okay for my house style - easy to clean and maintain Cons: - instructions where to fill water were unclear - only runs 5 hrs on maximum mist - need maximum mist for me to feel the humidity effect - too small for a medium sized room - mist doesn't go far so need to put the hunidifer right beside my bed (literally) to feel anything Would recommend for a small room if hepa filters is not a requirment for you
Date de publication: 2015-12-09
Rated

5

de

5
de
Bunnie
par
Great little guy!
I bought this guy two days ago and it's been on since. I had it at almost full strength and I the full tank of water lasted about 12hrs for me. I have a smaller size master bedroom and it's perfect. On complete full strength it lasted almost 8 hours. It's not bad at all. I sleep for 12hrs so it works out great!! It's quiet with random gurgles or knock sounds. It's so easy to take under the bathroom sink and fill the tank unlike others where a bath tub to fill is needed. It doesn't need to sit right next to your face. Because it's a cool Mist it feels like it isn't working or spreading to the other side of the room. Is does work because there is condensate on the window.
Date de publication: 2016-01-04
Rated

5

de

5
de
Rolfie
par
Great product - no noise and tank is big
Great product - tank does not to be refilled too often - low noise...
Date de publication: 2015-11-18
Rated

1

de

5
de
SamanthaR123
par
Broke after 2 days of use
Got this for Christmas and was very happy with the product until it stopped misting. Tank is full, fan is running, but no mist comes out. Would not recommend because of how cheap it is made.
Date de publication: 2017-01-06
Rated

1

de

5
de
Stph
par
Very disapointed
I just bought this product and the mist literally goes to the ground. Even placed on the bedside table, the mist goes nowhere but on the bedside table. This is totally pointless. I am very disappointed and if i knew, I would have never bought this product.
Date de publication: 2019-02-09
Rated

3

de

5
de
Jeny
par
I loved it until...
This unit was perfect, I love Sunbeam humidifiers! However, about 4 months after I bought this one, It got cracks in the water basin and stopped working. :(
Date de publication: 2018-06-19
Rated

2

de

5
de
Goto
par
Water everywhere Is there a rubber ring that is
Missing from this unit? First night ran well, second night water on the night table and then the next night water on the floor. What do I need to do?
Date de publication: 2018-01-03
Rated

1

de

5
de
Catherine
par
White powder everywhere
This humidifier makes a lot of white powder on the floor and furniture! Why there is no filter included?
Date de publication: 2017-01-17