Images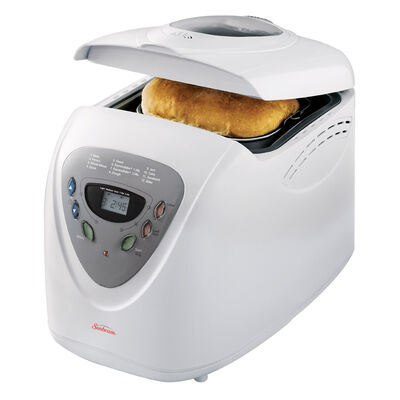 Machine à pain Sunbeamᴹᴰ programmable
Details
https://www.sunbeam.ca/fr_CA/petits-appareils-menagers/machines-a-pain/machine-a-pain-sunbeam%E1%B4%B9%E1%B4%B0-programmable/5891-33.html
Sunbeam
5891-33
https://www.sunbeam.ca/on/demandware.static/-/Sites-master-catalog/default/dw58e4de79/images/highres/5891-33-1.jpg
Rien ne vaut un bon pain maison moelleux et fraîchement cuit! La machine à pain SunbeamMD programmable intègre une fonction de mise en marche différée de 13 heures, 12 fonctions de cuisson et le cycle ExpressBakeMD pour faire cuire un pain en moins d'une heure.
Spécifications du produit:
Dimensions: h: 12.28 po x l: 16.02 po x  P 11.1 po
Poids: 14.11 li
Voir la suite...
Additional Information
Cette machine à pain programmable vous permettra de faire vos propres pains maison, avec les ingrédients que vous préférez. Pour plus de commodité, vous pouvez aussi utiliser le cycle ExpressBakeMD pour procéder à la cuisson en moins d'une heure. Fonction de mise en marche différée permettant d'activer la cuisson de la pâte préparée après un délai maximal de 13 heures. Récipient antiadhésif amovible et facile à nettoyer. Recettes incluses. Garantie limitée de 1 an.
Permet la cuisson de pains d'un maximum de 2 lb
Mise en marche differee de 13 heures
12 fonctions de cuisson
Cycle de cuisson expresse
Panneau de commandes a boutons-poussoirs et ecran a DEL
Recipient antiadhesif amovible
Inclut livre d'instructions et recettes
Machine à pain Sunbeamᴹᴰ programmable
est évalué de
5
de
127
.
Rated

5

de

5
de
Lucien T
par
The best bread maker ever!
Few weeks after my daughter was born, we received as a gift the Sunbeam 5891 bread maker. That was 5 and a half years ago. Since then we used it every day as we are very used to eat bread alot. 3 years ago we had the second baby and shortly after that we started using the bread maker TWICE a day. We started having problems with the pan about 1 year ago and now it got worst. I CANNOT COMPLAIN AT ALL about the helpful service that this machine was for us. I am here because I want to buy the very similar one for ANOTHER 5 YEARS. THE PAN ISSUE IS NOT GOING TO BE A MINUS AT ALL COMPARING TO THE SERVICE PROVIDED DURING 5 AND 1/2 YEARS!
Date de publication: 2016-01-10
Rated

5

de

5
de
Mariejj
par
Easy to use bread maker
I've used this bread maker four times since receiving it a month ago, and I'm very happy with its ease of use. For the 1.5 lb loaf, the only button I need to press is the "Size" button for 1.5 lb vs 2 lb. The rest is already set to default, so just push Start after putting in your ingredients that's listed per basic bread recipe in enclosed pamphlet. I'll mention that, after using bread flour, I decided to try using organic all-purpose flour instead of the recommended bread flour because all-purpose flour is one-half the price of bread flour-- you know what-- I couldn't tell the difference, so that might help anyone on a budget.
Date de publication: 2018-04-01
Rated

5

de

5
de
MommaOf3
par
Love it!
I've never had success with bread machines but I'm determined to get it figured out! This is the 4th bread machine that I've owned and it's the ONLY one I've been able to make bread in! I have a slightly older model than the one shown so I'm not sure if the instruction manual is the same - The model I have is PN102870. The instructions that came with it has great tips and hints. The recipes that are included are simple easy to follow everyday bread recipes. We have 3 growing boys in our house - so I wish I had the option to make a 3lb loaf because they gobble up the 2lb loaf so fast! Thanks for a great product!!
Date de publication: 2015-02-06
Rated

3

de

5
de
Anldot
par
Great for making Dough
I have had this bread maker for a couple of years and every time I use it to make a loaf of bread the middle collapses, doesn't matter what recipe I use. I have lived in Texas and now Illinois and it happened in both states. I use mine mainly for the ease of mixing the ingredients and the first rise and then make into rolls or put in a bread pan and rise then bake int he oven. Does anyone else have this issue and if you have been able to figure out why it happens please let me know. I do love my bread maker. I gave it 3 stars because I can only use it for dough setting.
Date de publication: 2014-08-24
Rated

5

de

5
de
Aunt DonDon
par
So far, great!
Got this for xmas. So far it works great. I have only made the regular bread and have had no problems of it rising correctly. I read some negative reviews and was a little worried about some things. Just read manual and this will resolve the problems they have. Like, the paddle won't come out. Once pan cools, I fill up with warm water over paddle for 15 mins or so, and it pulls right off for cleaning. Also, some say bread sinks in middle. I can see where teaspoon and tablespoon may be confusing, so maybe they are putting wrong amounts of liquid in it? Maybe it's the climate? I live in Texas. Anyway, so far, everything works and performs excellent. Great buy! Thanks!
Date de publication: 2016-01-30
Rated

4

de

5
de
Marc
par
Paddle problem
Our new machine makes great according-to-sunbeam-recipe bread, but cleaning is an issue: unlike our older Sunbeam bread maker, the paddle on the new one cannot be removed for cleaning, so dough accumulates under it and is often hard to pick out. Any suggestions? Would also appreciate any porridge bread and sourdough bread recipes that work without rising too much and sticking to the lid. Otherwise bread is generally great, although most times somewhat heavy ie. We would also like to be able to get the airy , light, crusty, French style bread occasionally. Ideas?
Date de publication: 2014-10-06
Rated

4

de

5
de
Shann
par
great bread, but I have a cake question
I bought this machine 3 months ago and I make bread every week. It is a great machine for the price and very easy to clean. Most of the loaves come out great. Sometimes a loaf will rise a lot then cave in a bit at the end of cooking. Must be my technique. Today I am making the cake recipe that came with the machine. It seems odd because it has no liquid ingredients except for the eggs and vanilla. Can this be right? The cake setting has mixed it up like bread dough and indicates that it's going to take 2 hours and 40 minutes to complete. Can this be right? Any further information would be very welcome. I notice the quick bread recipe in the booklet doesn't have any liquid either. I think the instruction manual and recipes need better information. Cheers
Date de publication: 2015-04-12
Rated

1

de

5
de
Galebm06
par
rubber washer and spindle problems
We purchased a new Sunbeam bread maker after our old Sunbeam finally bit the dust after several years of service. We thought the quality of Sunbeam was excellent. We bought this machine from Walmart in October/November. I make a loaf of bread about twice a week. The results have been excellent. Unfortunately last week the washer inside the pan disintegrated and the spindle fell out. Now I have to replace the pan and gamble that I don't ruin the bread maker while waiting for the new pan to arrive. There have been a number of comments regarding this problem dating back a couple of years. Why has Sunbeam not addressed it? If the new pan does not last I will not be purchasing from Sunbeam again.
Date de publication: 2017-03-18