Images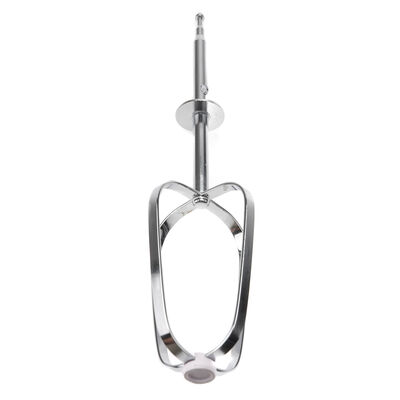 Sunbeam® Mixmaster® Stand Mixers White-Tip Beater, Right
Details
https://www.sunbeam.ca/en_CA/parts-and-accessories/stand-mixers/stand-mixer-attachments/sunbeam-mixmaster-stand-mixers-white-tip-beater-right/115969-002-000.html
Sunbeam
115969-002-000
https://www.sunbeam.ca/on/demandware.static/-/Sites-master-catalog/default/dwdaec0283/images/highres/115969-002-000-1.jpg
Availability:
This item is currently not available online.
Replacement right-side beater for use with your Sunbeam® Mixmaster® Series Stand Mixer.
See More...
Additional Information
For use with Sunbeam® Stand Mixer models 2623 & 2379.
Sunbeam® Mixmaster® Stand Mixers White-Tip Beater, Right
is rated out of
5
by
28
.
Rated

1

out of

5
by
tom23
from
Parts for older Models unavailable
Tried to buy a pair of Beaters and got 2 of the same also web sight is not clear on older models of Mixers. Found out to late my Mixer is no longer made and no parts were available. Had to pay for return shipping.
Date published: 2015-01-04
Rated

3

out of

5
by
brendaL55
from
So Confused!
I am on a fixed income and bought this mixmaster for the quality and price. Within 2 years the dough hooks are no longer available for model number 2590 nor the replacement beaters for model number FPSBSMGL. This brings me to the possibility of donating it to the Salvation Army and going out to purchase another one from a different manufacturer/brand. I could use it with just the regular beaters but I want the entire package, the whole "enchilada". I'm really disappointed to find out that these replacement parts are nolonger available.
Date published: 2018-12-09
Rated

5

out of

5
by
crobin17
from
Great replacement part
After my 5 year old grandson licked the pie batter from my beater, he threw the beater in the trash and my husband promptly took the trash to the disposal, I was left with 1 beater. After I got past the moment, I found a replacement at sunbeam. One week later, I was baking again. Thank you Sunbeam, for your replacement part and your swift delivery.
Date published: 2017-01-17
Rated

1

out of

5
by
WL_Shirley
from
Didn't fit my mixer
The white tip beater I purchased looked exactly like the original one that broke but It wouldn't click into my mixer. Upon closer examination I discovered it was millimeters different from the original. Lesson learned.
Date published: 2017-01-16
Rated

1

out of

5
by
baker57
from
so disappointed
I had my first Sunbeam mixer for over 10yrs. I loved it so much more than the KitchenAid because of the ability to move the bowl into a different position while still mixing. Also because of the price (obviously) BUT the quality has gotten so bad that I have had to replace the beaters almost monthly (over the last 3yrs) and every time I try to buy new beaters they are out of stock and I end up buying new mixers instead. In the last 2 weeks I have broken 2 hand mixers while waiting for my new beaters. So frustrating and so disappointing.
Date published: 2019-03-14
Rated

1

out of

5
by
Tinydog
from
Great Features but
I love my Sunbeam Stand Mixer but some one put the beaters on wrong and now they are bent. I was so excited about finding replacements. But in small letters, I am told they are no longer available. I almost cried I was so disappointed
Date published: 2015-05-22
Rated

1

out of

5
by
DeeS
from
I'm not sure if I am mad Or just hateful
I bought myself the sunbeam standmixer for Christmas. $120+.... I put in the mixer part and the dough part AS SHOWN .... guess who has a broken mixer now since the parts do NOT mix, jam and you can not even eject them if you wanted too!! I've had this for a few weeks now. I never expected this to happen and now I am out a mixer and money for a brand new one! DO NOT sell and advertise a product or options for be product if this happens. Thanks for nothing. *Two sarcastic thumbs up*
Date published: 2019-01-17
Rated

1

out of

5
by
frustrated baker
from
No way to get parts from the company
I needed a conical beater with a bowl speed control button on the bottom (Part No. 86637). My mixer itself had no model number, nor did the model number appear in the instruction booklet I received with it many years ago. All I knew is that is stated Sunbeam Vista. So when I went on the company's chat line, the agent was apparently perplexed because the part number was not coming up. I indicated that it was a Vista mixer and the approximate age of it. His responses were: we don't make that replacement and check with our retailer. Now, it would seem to me that even if you have an older model mixer, there should be a beater to fit it. After all, we are not talking about major parts unique to a motor mechanism. If beaters are so unique that there aren't a few made that could fit an older mixer, that is really bad.
Date published: 2019-05-02